Planning and operation of Peace Boat Cruises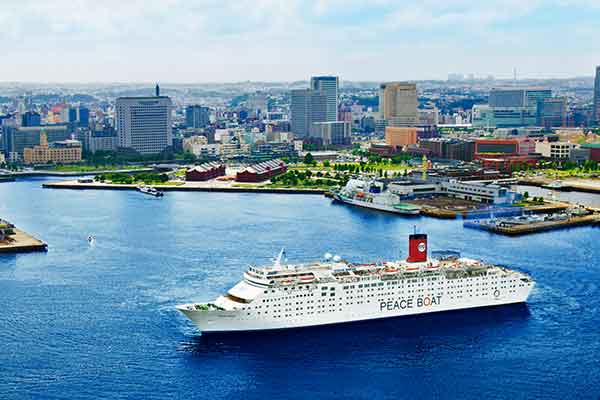 Since 1995, Peace Boat's global and regional cruises have been operated by travel agents Japan Grace Co., Ltd., with programs conducted by partner NGO Peace Boat.
More than just sightseeing
A wide variety of optional tours are offered at each port of call, including unique programs such as homestays with local families and cultural exchange programs that offer a much more meaningful experience than regular sightseeing tours.
We also conduct programs dealing with social, environmental, and historic issues in some countries. Led by local experts, these programs provide first hand experiences that have the power to change your concept of "travel" altogether.
The benefits of traveling by ship
The environment aboard our ship is ideal for bringing people together. With over 30 years of experience conducting international exchange programs, NGO Peace Boat provides a wide variety of activities onboard. From peace building educational programs involving students from conflict areas, to cultural lessons and even an onboard Montessori daycare center, our programs cater for those who want to learn more about the reality of the world we are traveling through.
Travel builds peace,
peace makes travel possible
With the belief that traveling is a peace industry, we aim for minimal negative impact throughout the voyages, learning from and protecting the nature and culture of the places we visit.
As a committed campaigner for the UN Sustainable Development Goals, adopted in 2015, we travel the globe spreading our message 'Travel for Peace, Peace for Travel'.

Company Name
JAPAN GRACE CO.,Ltd.
Address
1-32-13 Takadanobaba,
Shinjuku-ku, Tokyo, Japan 169-0075
Registered Travel Agency No.617 approved by the Commissioner of Japan Tourism Agency.
Member of Japan Association of Travel Agents(JATA)
Supporting Member of Japan Oceangoing Passenger Ship Association(JOPA)