El Sistema – Our hearts will beat to the rhythm of music, Jul 13, 2016 (91st Voyage)
Our hearts will beat to the rhythm of music. This is the message the orchestra of El Sistema brought onboard the 91st Voyage. One of the largest social inclusion projects in the world, El Sistema was founded 41 years ago by Maestro José Antonio Abreu. His idea was that music could somehow change the lives of Venezuelan children and youth and instill good social and moral values. Some of these young musicians now travel the world, playing in sold-out theatres.
El Sistema has a total of 1,210 orchestras throughout Venezuela: 280 orchestras for pre-school children, 390 children's orchestras, 450 youth orchestras and 41 professional orchestras, in addition to a network of 372 youth and children's choirs and 1,355 affiliated choirs and 27 workshops that support the repair and construction of musical instruments. This well developed system gives every child and youth in Venezuela the chance to learn music for free. About 623,000 children and youth from all social strata of the country, especially from disadvantaged "barrios" have access to the study of music, thanks to a nation-wide network of 416 music schools called nuclei and 8,900 teachers.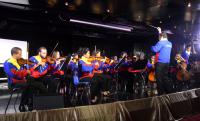 El Sistema performing onboard
The first opportunity for Peace Boat participants to meet with members of El Sistema was in La Guaira, Venezuela where a Festival for Peace was organized by the government of Vargas State. The Director of the movement of Mothers for Peace, Maria Leon joined and also Tatsuya Yoshioka, director and founder of Peace Boat who flew from Japan to attend this event. The festival included participants from Peace Boat performing Wadaiko (Japanese drumming) and several types of traditional dances. One of the most famous bands of the El Sistema, El Sistema's Salsa big band, Orquesta Latin Caribenho from Caracas thrilled the audience with salsa who danced along with the rhythms.
In addition about 80 Peace Boat participants visited the headquarters of El Sistema, the "National Centre for Social Action through music" in the capital of Venezuela. In the concert hall, El Sistema played folk music and they had a quartet of clarinet, flute, percussion and a four stringed traditional instrument called the cuatro.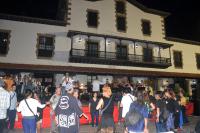 A special evening in La Guaira with salsa, dance and cultural exchange
Peace Boat participants had the opportunity to listen to the handbell Orchestra of Vargas, who joined the Voyage from Venezuela to Panama and also to 22 members of the Francisco de Miranda Orchestra from Guarena (Venezuela), who are staying on board until Yokohama. "We can read about El Sistema or go to their performances, but the richness of this experience is to know them directly on board," explained Matsumura Masumi, Peace Boat International Coordinator who is responsible for Peace Boat's El Sistema Projects.
They are young musicians between 18 and 28 years old and for all of them it is the first time to travel to Japan. From practicing how to use chopsticks, to learning beginners' Japanese and helping with Spanish GET classes, El Sistema musicians have lots of opportunities to learn about Japan and to enjoy life on board. In addition, they are also giving daily singing and instrument classes to Peace Boat participants who wish to learn or improve their music skills. "I loved their concerts. They are very energetic. To make friends with the musicians, I try to use Spanish, I help them learning Japanese and I learn how to play bassoon, even if I find it very difficult. They make a lot of effort to remember Japanese words and I do my best to remember Spanish ones," explains Higashi Kana, one of the participants onboard.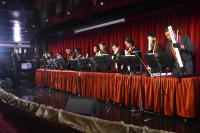 The handbell Orchestra of Vargas during a concert onboard the 91st Voyage
The Orchestra held concerts in Curacao, Panama and Guatemala. In Curacao, El Sistema was invited to play by the consulate of Venezuela during the national holiday (Carabobo battle day). They made an offering of flowers to the statue of Simon Bolivar and in the afternoon they had a public concert and an exchange with local young musicians. In Panama, El Sistema visited a secondary school and the Youth Symphonic Orchestra of Colon whose conductor learned about El Sistema in Venezuela, opened his own Nucleo in Panama following the Venezuelan example. Indeed, the El Sistema model was emulated around the globe in more than 50 countries. Finally, in Guatemala, El Sistema performed onboard for the workers of the Puerto Quetzal City Hall.
At the conclusion of the Voyage, El Sistema will perform in Tokyo at the Daiichi Seimei Hall, organized by the Venezuelan Embassy. Then, they will visit El Sistema-Japan in Souma (Fukushima prefecture), which was founded after the Fukushima disaster. Some members of El Sistema will visit Kumamoto prefecture to bring joy to a school, which experienced a major earthquake this April.
Peace Boat participants are just enchanted by their energy. "They are so young, but they are very good. Mambo Number 8 is my favourite!," comments Hikari Kenjyou, a Peace Boat participant. More than 5,700 US Dollars were donated by Peace Boat participants during an onboard auction, in addition to around 600 Dollars collected though selling CDs.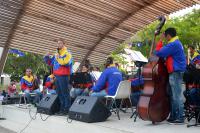 El Sistema at a public outdoor concert in Curacao
El Sistema has produced some remarkably talented musicians, the most famous among them are: Gustavo Dudamel, director of the Los Angeles Philharmonic, bassist Edicson, Natalia Luis-Bassa, flautist Pedro Eustache, violinist Edward Pulgar and violist Joen Vasquez. One of the promising future talents is the director of the Francisco de Miranda Orchestra Andres Gonzalez. "It is all like an adventure. There are people that need to do bungee jumping or paragliding to feel the adventure, but I think that since I have joined El Sistema I have an adventure every day," explains the director. The youngest of five children, he was looked after by his single-mother and his elder sister. "It was a humble and simple family, but we did not feel poor. We were eating chicken once a week and other meat once every six months". He highlights how the universal language of music carries a special meaning for the youth: "Every boy and girl who joins a choir or orchestra learns that it is worth putting some effort, because efforts bring results. Also, music is something that goes beyond what is simply physical. Having access to music, people can see life through beauty and art. Maybe you don't like a certain music genre, but everybody likes music. Moreover, in an orchestra everybody is essential, you feel part of the team. I think this has a special meaning for the youth".
Venezuelans can "join" El Sistema even when they are still in the womb, thanks to the New Member Program for pregnant women. El Sistema also brings music to hospitalized children. In addition, El Sistema has a Special Education Program to teach music to youth and children with special educational needs, a Penitentiary Orchestras Program to support inmates' reintegration into society and the Alma Llenera Project to play traditional Venezuelan instruments. The majority of the funds (about 80%) come from government, and the rest is collected from NGOs, Embassies and fundraising events. Several international organizations such as UNESCO, Organization of American States (OEA or OAS), UNICEF, American Development Bank etc. recognized the value of El Sistema as a vehicle of social change for Venezuela's youth. "The main objective of El Sistema is not to produce musicians, but to have a positive effect in the youth development. Indeed, students who join El Sistema are less prone to drop out from school and they tend to have better academic results and to stay away from crime," explains Andres Gonzalez.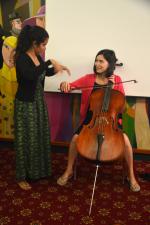 Members of El Sistema gave music lessons to participants onboard
"I think that if I did not take the El Sistema's pathway, my destiny would have been different," explains Williams Salazar, a violinist of Francisco de Miranda Orchestra, "I was living in an environment that was not very good. In my freetime, the majority of my friends were in the streets joking around, loitering and committing crimes. In order to be cool you were supposed to behave and dress like them. El Sistema not only made me a musician, but also a better person. When I have started to play music, I have realized what is good and what is bad. I distinguished between good friends and bad company". Williams Salazar is also studying to become a chef and he is keen on trying all Japanese food served onboard: "I would like to learn genuine traditional Venezuelan cooking and then travel and learn about other cuisines. Finally my dream is to combine cooking art and music art".
Using music as an instrument of peace, El Sistema and Peace Boat join forces in the hope for a future of peace and mutual understanding between people from all over the world.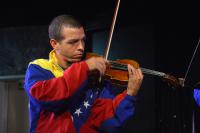 Williams Salazar dreams to combine his two passions: music and cuisine