Ports of Call – Manzanillo of Mexico (92nd Voyage)
The Ocean Dream docked at Manzanillo, the port of calls which is famous for serving as a world-known trading port and resort area in Mexico. Another amazing part of Manzanillo is that the pier is just steps away from the city, making it very easy for all the passengers in visiting the downtown area.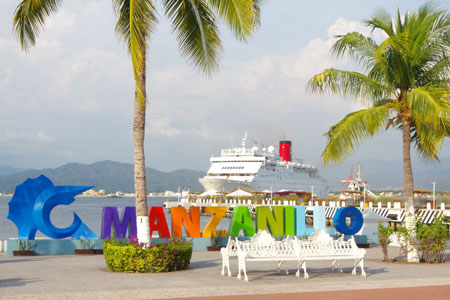 Once stepping out of the ship, you can see this gigantic swordfish mounment standing right in front of the harbour. The city is known as the "Sailfish Capital of the World", signifiying its world class status as a famous fishing port of sailfish and swordfish. Seeing the magnificent scale of the monument is making one breathless and speechless at the same time.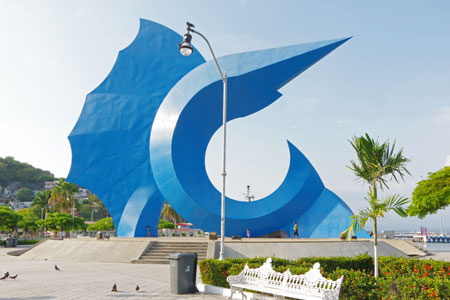 Trying the local food is another big event of the day! Talking about local cusine in Mexico, for sure one cannot miss the famous "Taco". Don't forget to add on the spicy salsa sauce and lime juice like the local does!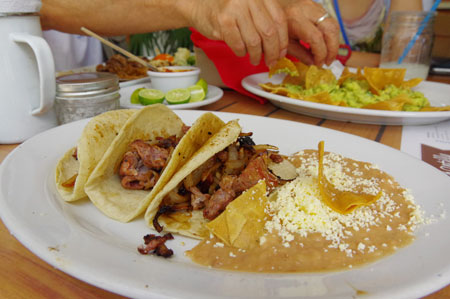 The cultural exchange festival cohosted by Peace Boat and the Manzanillo City began in the evening. Many local people gathered in front of the swordfish monument to welcome the friendly visit of Peace Boat. The show began after an introduction on various Peace Boat projects to the local people.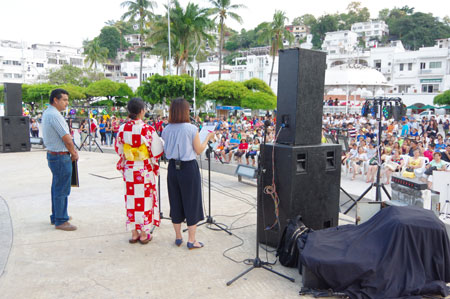 We were honored to watch the traditional dance performed by the dancers of Manzanillo in their colorful skirts. Everyone were clapping in harmony with the music.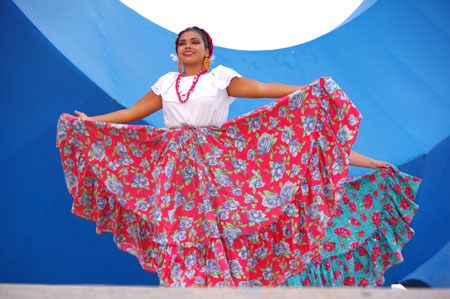 Passengers from Peace Boat also performed "acer", the Okinawan styled tranditional dance and Japanese drum as a gratitude to the local people's greetings.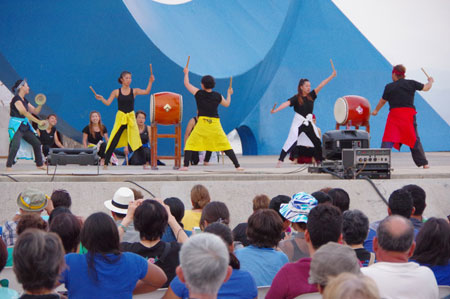 There were over 500 people gathered for the event including both local people and passengers from Peace Boat. Every participants enjoyed such a valuable experience of cultural exchange in regardless to the language barrier. Yet, time ran fast and it's time to say goodbye! A time to have the group photo in memorizing this historical moment.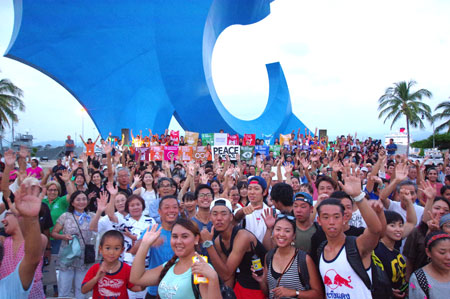 Many local people came to see us off at the depature ceremony and passengers onboard throwing out colorful paper tapes as "farewell" to those at the pier. Words like "Arigato" and "Gracias" were flowing arond in the air and the ship sailed off slowly.
Saying goodbye to the night view of Manzanillo, Ocean Dream heads on to its final port of calls – Hawaii!