~94th Global Cruise Highlight~ Cruising through the Panama Canal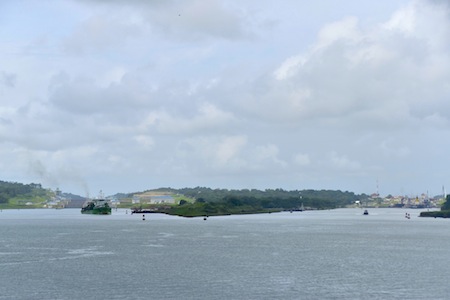 This news is from 94th Global Voyage.
We are going through the Panama Canal today – one of the highlights traveling on a cruise! Two entrances are gradually appearing in front of us as Ocean Dream cruises closer towards the canal. The entrance on the righthand side is the one completed in 1914, and the other one is a new canal built in 2015 commemorating the 100th anniversary of the Panama Canal enabling larger ships with a maximum width of 49m to pass through.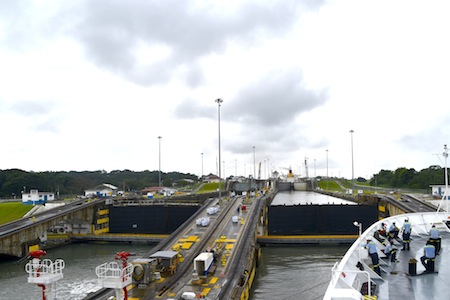 It had been raining on and off since the morning but stopped when we entered the locks! Once Ocean Dream eases into the lock chamber, the lock gates behind swing shut, enclosing the ship inside. The ship is gradually lifted up as water is pumped into the chamber.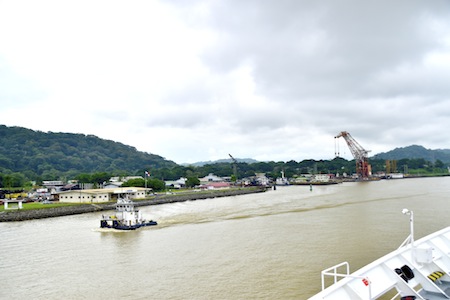 While we cruise through the canal the weather improves and we enjoy gazing at the towns, birds flying over and nature along the canal. It takes 8 hours to pass through the 80-km long canal, keeping enough distance with other ships in front and behind.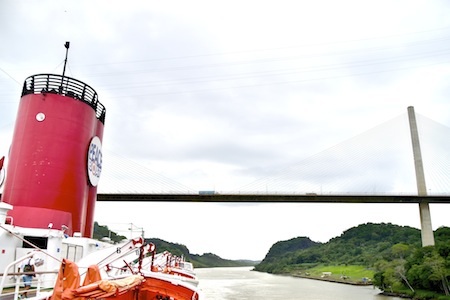 We pass under a highway bridge. The road towards the righthand side leads to Alaska, and the other side to Ushuaia, Argentina.
Having cruised through two major canals in the world, our global voyage is reaching the last stretch. We continue to the next port of call, Nicaragua!