Stop at Yangon (Myanmar)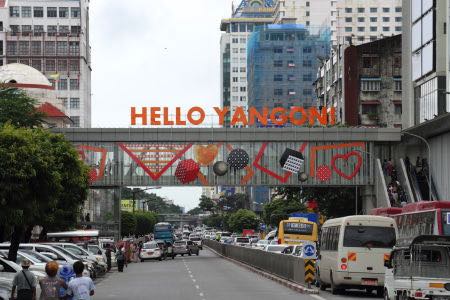 Aug 27, 2017
We have arrived to Yangon, a formal capital and the largest city in Myanmar!
The first place we have visited is Yangon central station.
The place is busy with markets, people and cars.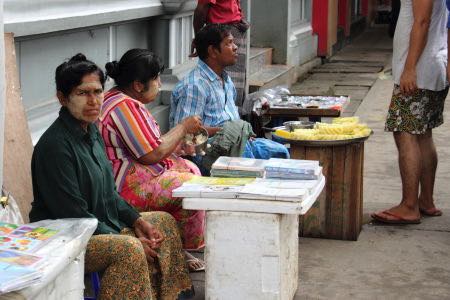 In the streets, we see some people who paint their faces in white.
It is a popular natural cosmetic called "Tanaka", which also works as a sunblock lotion.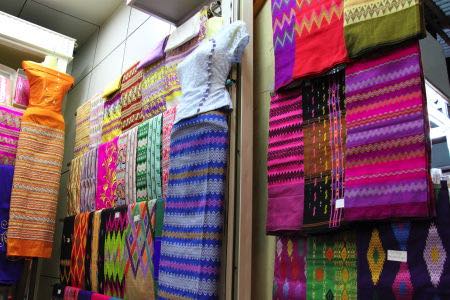 This is a traditional costume of Myanmar called lungi. People wear the clothes that is sewed in a ring shape, and women wear them by pulling and tying the clothes to either side. Since lungi can easily hide their legs while they lift their legs up when climbing up the mountain for worship or high places, the clothes is accepted as an appropriate clothes for everyday life. The color as well as the designs are vivid that we see people who buy those as a souvenir.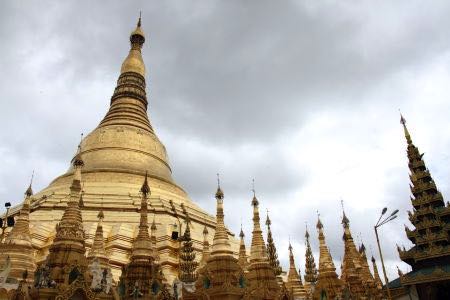 After having Myanmar curry for lunch, we have headed to Shwedagon Pagoda, a sightseeing spot or Yangon, as well as a symbol of the city. We are overwhelmed by the beauty of the great golden pagoda.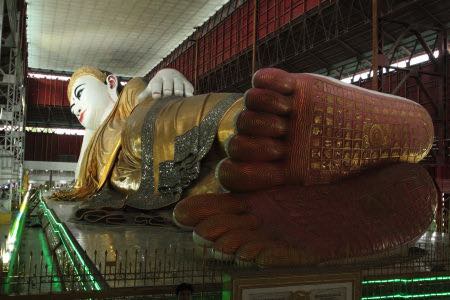 Chauk Htat Gyi Pagoda is a gigantic reclining Budda is 70meter in length, 17 meter in height. There are 108 drawing of Buddhist priesthood, universe, nature, and animals which represent the Buddhist universe. It is said that this is golden Buddhist universe.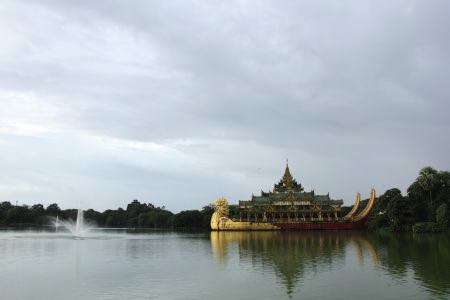 Then we have visited Kandawgyi Lake, which is a man-made lake by drawing water from Inya lake during British colony, and there, people can enjoy meals on a floating restaurant.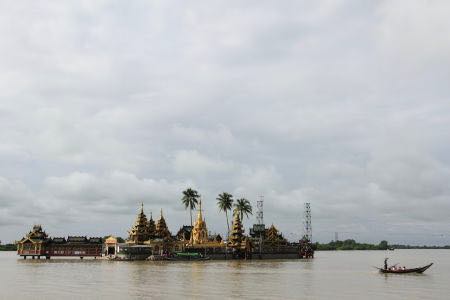 On the 2nd day at Yangon, we have visited a small village called Kyanktan.
Here, there is Yelai Pagoda built on a sandbank. We were told that it took 10 great years and cost to built that building.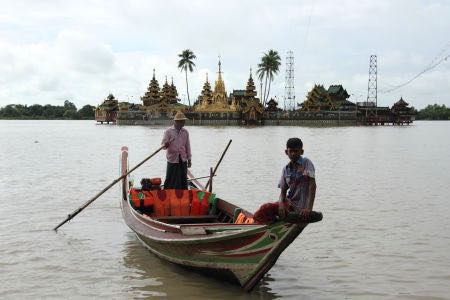 To visit Yelai Pagoda, we need to ride a ferryboat. Not only the priests, but also many people head to the Pagoda by this ferryboat. It is a scenery we will not be able to see at other places.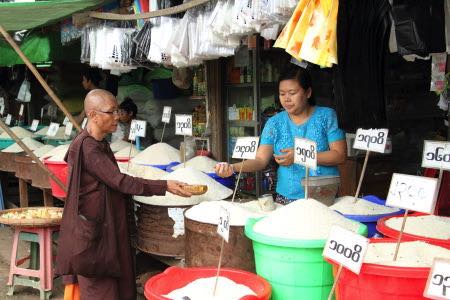 Our stay in Yangon has become a wonderful experience by being able to enjoy the beautiful scenery and being touched by the gentle heart of the local people.