[100th Cruise Report]Project report: Voyage of Light
Mar.18th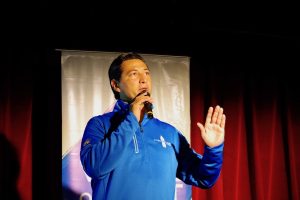 In this voyage, Peace Boat has partnered for the first time with Filipino NGO Liter of Light (LoL) to create a new project, the Voyage of Light. For communities and people living without light security, LoL uses old plastic bottles and renewable solar energy to create a new system for delivering light to people. This voyage has delivered nearly 1000 lights and the knowledge to make them to people all over the world, in addition to holding light-building workshops onboard the ship. Today was the final report session looking over the activities of LoL across the course of the voyage.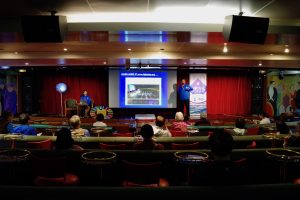 As LoL founder Illac Diaz said "In this voyage we have successfully delivered lights all over the world, particularly to many communities in need in the Southern Hemisphere. Peace Boat has been a fantastic partner for our work, and everyone onboard has also helped in our preparations. The assistance we found on the ship was greater than anything we could have imagined, and with Peace Boat's world-spanning partnerships, we were able to put our project into action in port more smoothly than we could have hoped for".
In a digest video summarising the activities of LoL, some of the beneficiaries of the project were shown to passengers. Those who were otherwise forced to carrying dangerous bottles filled with kerosene on their backs over mountains, or darkened school streets and libraries without light, all of these places were now able to make their own light. Passengers onboard could see where the lights they themselves had made have ended up. The final project report finished with one last light-filled group photo, as both LoL team members and Peace Boat passengers alike could see the fruits of their labour. In Apia the LoL team would disembark to continue their activities in the islands, before continuing on to Japan and New York to report on their activities to date.