[102nd Cruise Report]Onboard Culture School
Sept.8th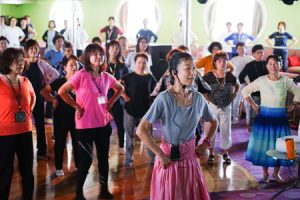 One of the things that make the culture school more enjoyable is the "Onboard Culture School." While onboard, and by being surrounded by the ocean, you have a great environment to focus on your hobbies, on learning, or in adquiring a new skill along with new friends. The programmes we have prepared for our Onboard Culture School are: Ballroom Dance, Hawaian Hula, Yoga, Boxercise, Tai-Chi, Nordic Walking and Watercolour Painting. It has been about 10 days since we departed, and we would like to introduce you some of these classes from the Onboard Culture School!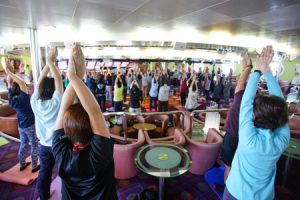 [Yoga]
By just focusing on being aware of your breathing, your temperature increases and your body starts to feel awake. Everyone looked like having a very good time while stretching their bodies.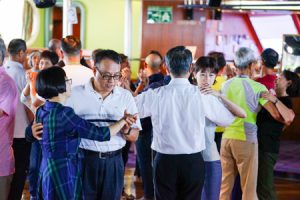 [Ballroom Dance]
Dance in pairs while interacting with other passengers. It is a great opportunity to make friends onboard. I got the impression that by dancing in pairs you can befriend your dancing partner more naturally.
[Hula Dance]
Relax your body and mind with elegant moves and the warm melody of the ukulele. With a lot of participants, this class is a very popular one. Everyone danced from beginnning to the end with a big smile.
The lessons for beginners are gonig smoothly, with anyone being welcomed to join our Onboard Culture School. This is a programme that will make the life onboard even more fun!