Journey to the Real Face of Tahiti – 1: Gentle Moments in the Pacific Ocean, Part 2
June. 5th
To Tahiti, the most beautiful "Pearl of the Pacific"
The day after the call to Papeete, we visit Bora Bora Island, located about 260 km northwest of the main island, Tahiti. It is said to be one of the most beautiful of the Tahitian islands. Because it doesn't have a harbor where a ship as large as the Ocean Dream can dock, the ship is anchored off the coast of the island, and passengers change to a special tender boat for landing. The main island of Bora Bora is only 32km around. It takes about 10 minutes by bus from Vaitape Port, where the tender boat docks, to get to the southern end of the island where you will reach Matila Beach. This beach is said to be one of the most beautiful on Bora Bora – itself said to have the most beautiful sea in the world. The sea is endlessly clear turquoise blue, with pure white sandy beaches, and it's like you're in heaven. A spectacular view spreads out over the whole area. One look at this scene and you'll understand why the island is called the "Pearl of the Pacific".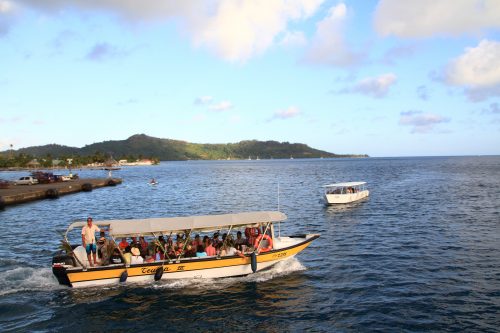 The tender boat ride has a pleasant breeze that caresses the surface of the water and slips through your body. Paradise lies ahead.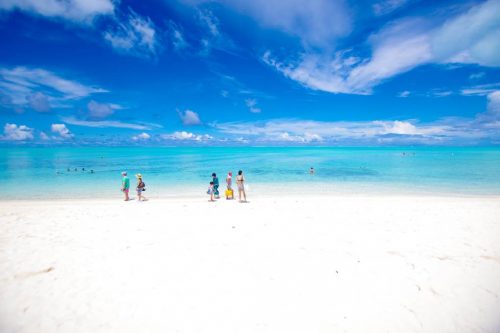 Matila Beach is one of the most beautiful beaches in Bora Bora, with over 100 meters of crystal clear water. The shallow waters continue.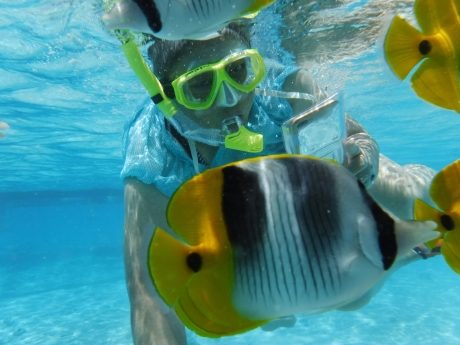 An underwater paradise. You'll never get bored of looking at the colourful fish as they lazily swim in front of you.
Delightful food to enjoy the tropical atmosphere
In the evenings, the square near the harbor is lined with street-side restaurants called "lulot". They serve not only local Tahitian food, but also Chinese and food from other countries, hamburgers, pizza, and more. It's hard to decide which stall to sit at, there are so many choices. Of course, it is best to order Hinano Beer, Tahiti's world-class local beer, to go with your meals. It's characterized by a tropical, fruity flavor that is easy to drink even for those who may find other beers bitter. By the way, "Hinano" means "cute girl". Stickers and T-shirts with this beer label as a motif are also popular as souvenirs. Another popular souvenir of Tahiti is Monoi Oil. The Polynesian people have a long history of utilizing plants for their medicinal properties. Monoi Oil, made from Tiare Tahiti flowers and coconut oil, is often used as an all-purpose oil to soothe skin after the tropical sunshine, or for hair. It's a popular souvenir that everyone will appreciate for its beauty benefits, including moisturizing and warming properties.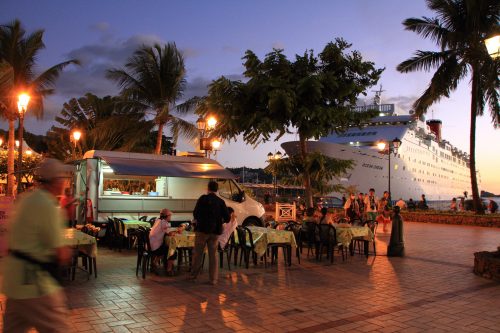 The area is lined with roulottes, food stalls converted from trucks. The prices are much more reasonable than those of regular restaurants.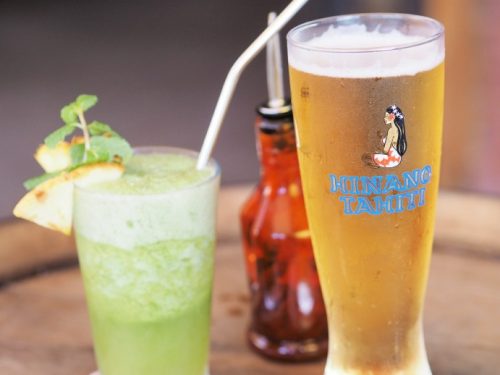 Hinano beer is famous for its label of a woman wearing a pareo. This local brew is a special treat.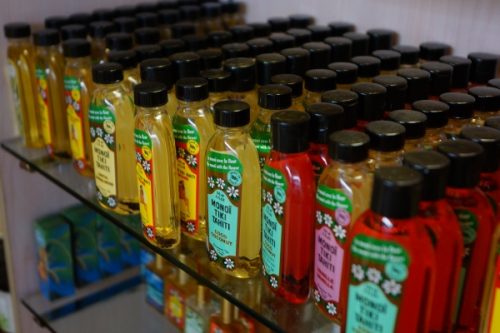 Monoi oil is a traditional perfumed oil of the islands from ancient times. It has long been used for many aspects of daily life in Tahiti.