Journey to the Real Face of Tahiti – 1: Island Traditions Connect the Earth's Future, Part 1
2020/6/12
The Tahitian islands are in the South Pacific, surrounded by crystal clear waters and deep green valleys. Tahiti is said to be the birthplace of Polynesian culture, and is a great place to experience the richness of its culture as well as its magnificent nature. This is one of the most popular ports of call for Peace Boat cruises. Although Tahiti has a strong image of being a beautiful paradise, its history of French colonial rule has had a profound effect on the lives of its people. In the second half of this report, we will focus on the people who are working to preserve traditional Polynesian culture through organic farming, and introduce you to a cultural exchange programme to learn about the values of the Maohi indigenous people of Tahiti.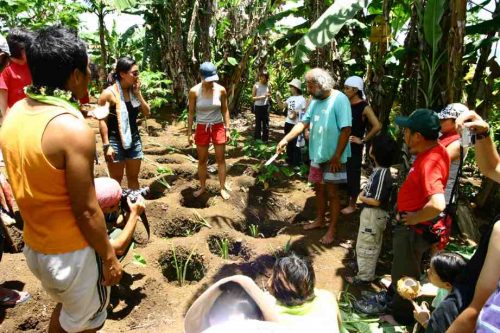 A visit to a traditional farm surrounded by nature
Tahiti, known as French Polynesia, consists of 118 islands and is home to a variety of indigenous cultures. The area known as the "Polynesian Triangle" spans the vast Pacific Ocean from Hawai'i in the north, Rapa Nui (Easter Island) to the east, Tahiti to the west and Aotearoa (New Zealand) to the south. The indigenous cultures were also influenced by Southeast Asian immigrants who settled long ago in the Pacific, and the islands therefore share various cultural aspects despite their considerable distance from each other.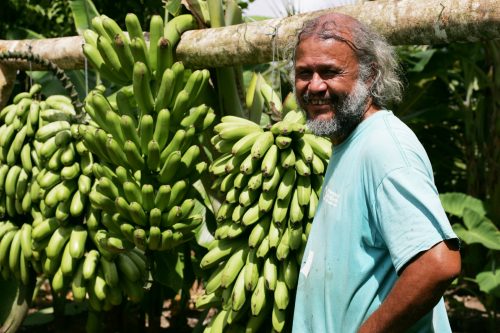 For more than twenty years, Peace Boat partner and traditional organic farmer Gabriel Tetiarahi, known fondly as Gabi, has been teaching Peace Boat participants about the indigenous culture and way of living of Tahiti.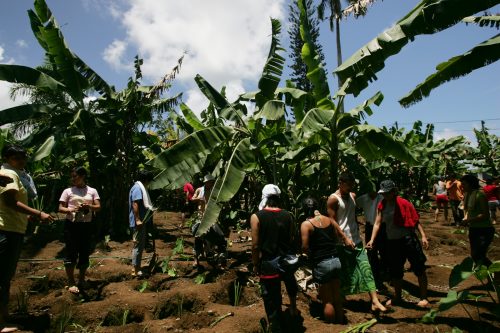 Each Peace Boat visit to Tahiti, Gabi also welcomes a group of participants to visit his farm for an exchange programme.
The indigenous people of Tahiti, Maohi, are named for "people who live on Mother Earth and the sea." Their culture is part of the Polynesian Triangle. They have lived in the Polynesian region since ancient times, believing in the eight million gods of the sea and land.
A farm rich in nature with the wisdom of the Maohi
Once you step into Gabi's farm, you feel like you've wandered into a jungle of palm and banana trees. It looks a little different from what you might imagine a "farm" to be like. That's no wonder, because this plantation is home to a wide variety of indigenous plants including coconuts, taro, bananas, avocados, mangoes, breadfruit, grapefruit and papaya. The fruits and vegetables grown in the sun look so delicious! Try some of the freshly harvested vegetables and you'll find that the freshness and natural sweetness spreads in your mouth.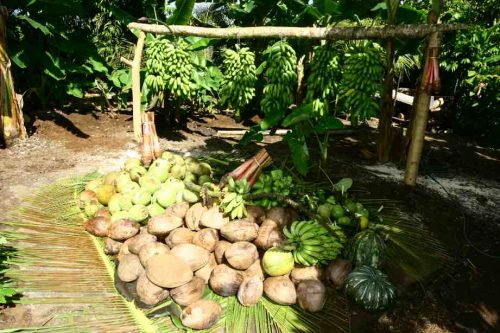 It's as if you've wandered into a jungle. "It's very natural to grow different kinds of seeds together, and this way they grow stronger," says Gabi. His words share the wisdom of traditional farming techniques.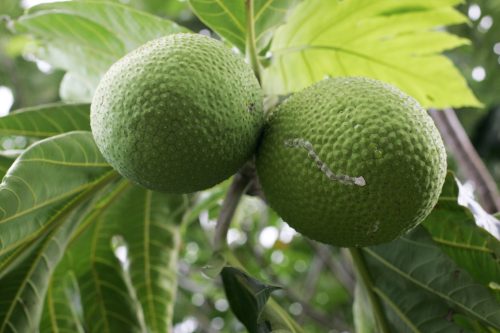 Breadfruit, with its distinctive appearance, is a starchy and nutritious superfood.