Walking through Fascinating Morocco
2021/4/23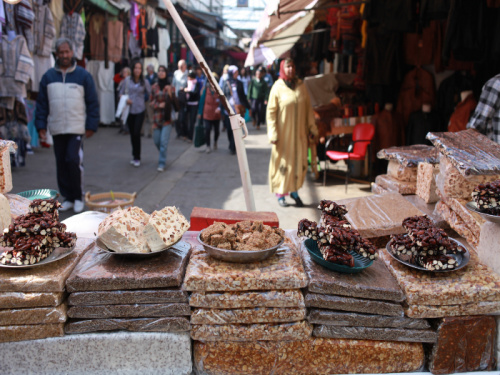 Tangier, Casablanca, and Marrakesh (Morocco)
Located in northern Africa, and facing the Mediterranean Sea, Morocco developed as an important crossroad that connected Africa, Europe and the Arab world. With many cultures and histories coexisting in its towns, the different architectural styles used in buildings has created great landscapes full of cultural value. Islamic constructions with beautiful tiles, medinas (old towns) with their maze-like alleyways, lively and yet comfortable souks (markets), and gourmet delicacies full of fresh fish from the Mediterranean. Morocco has so many charms awaiting our exploration during our visit.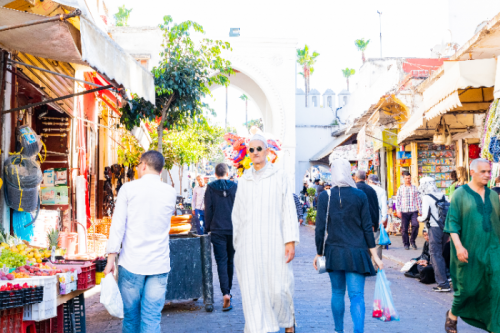 Morocco's Maritime Gate
Our Moroccan adventure starts in Tangier, a city facing the Strait of Gibraltar. Divided from Spain by merely 14 kilometers of sea, Tangier is known as Africa's Maritime Gate. Traces reminiscent of Spain's southern region coexist with the Islamic culture, creating an exotic atmosphere. In Tangier, you can particularly feel the strong Mediterranean local culture in the medina, the old town. Inside this area, you can see white walls characteristic of Mediterranean cultures, smell many spices, see people pass by, and visit the mosque. This is the best place to truly feel that you have arrived in Morocco.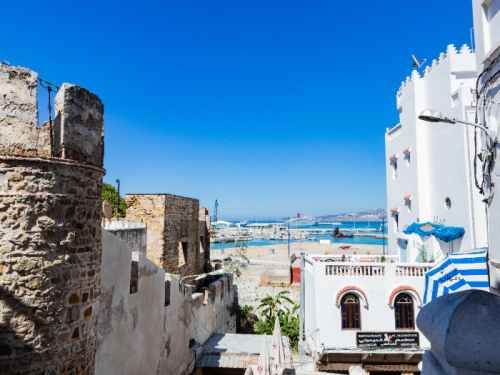 Another special characteristic of Moroccan cityscapes is the traditional zellij tiles. Zellij tiles are made by artisans, cutting fine pieces of clay and arranging them into geometrical patterns. This elaborate and beautiful Islamic mosaic art can be found in the walls of mosques and houses, in the gates of the old towns, and many other places. The perfect background for the different stores and souks, these colorful walls are an indispensable part of the Moroccan scenery. Enjoy this art all over town is one of the greatest pleasures of walking around in Morocco.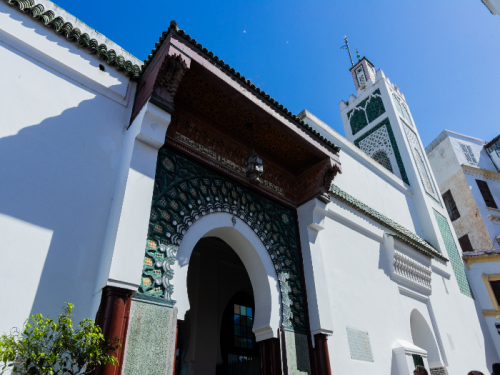 To the Moroccan Andalusia
Located to the east of Tangier, Tetouan is known as the Moroccan Andalusia for its high concentration of white houses, creating a beautiful sight that blends Morocco's unique atmosphere with Spanish architecture. Tetouan resembles Andalusia because many people from that Spanish region took refugee here during medieval times. Moreover, it was ruled by Spain during the first half of the 20th Century. Today, the different cultures have taken roots in the city in a harmonised way. Walking through the medina, registered as a World Heritage Site, you can see white walls decorated with arabesque patterns and elaborated carvings simliar to those in the Alhambra palace.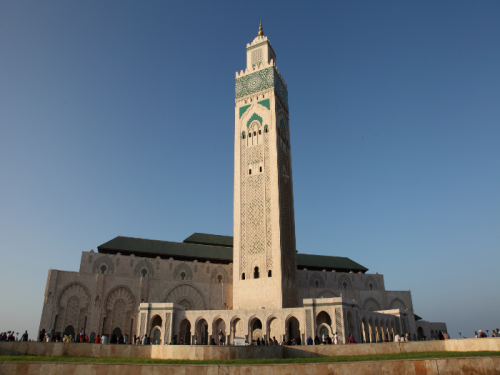 Visiting one of the world's grandest Mosques
Casablanca is another gate to Morocco along with Tangier. Known worldwide due to the Hollywood movie of the same name, Casablanca is a beautiful city where the Moroccan and French cultures blend together. While here, one place that you must visit is the Hassan II Mosque, with the world's second highest minaret tower at 210 meters. The late king Hassan II built this magnificent mosque as a symbol of North Africa, gathering artisans from all over the country. Decorated with emerald-green marble tiles, this mosque's aesthetics will take your breath away. Although it's a building of enormous dimensions, its superb design doesn't feel intimidating at all, and instead captures the hearts of everyone who visits.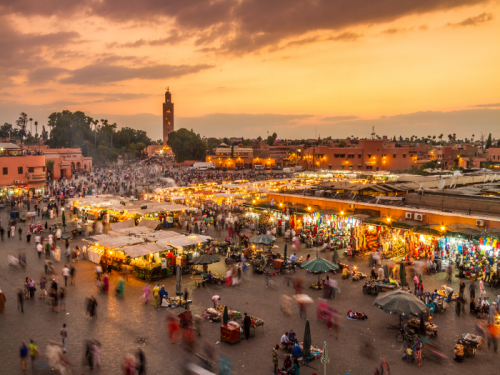 Shopping and Eating in Marrakesh
Marrakesh means "the country of good" in the language of the Berbers, an ethnic group of North Africa. One of the main attractions is its medina quarter, which flourished as North Africa's biggest trading city. At the center of the medina quarter we can find the Jemaa el-Fna Square, where many food stalls are lined up, and a lively atmosphere can be enjoyed all day long. If you have an empty stomach and decide to look around these stalls, you may see many stores with tajine pots and their unique conic lids. With a steam circulation system, these tajine pots are able to draw out the best flavors of the ingredients. In a place like Morocco, where water is scarce, these pots are a testomony of the wisdom and creativity passed down since ancient times. Without delay, we also decide to have some juicy meat and vegetables prepared in these tajine pots. Their healthy and subtle flavor made us smile immediately.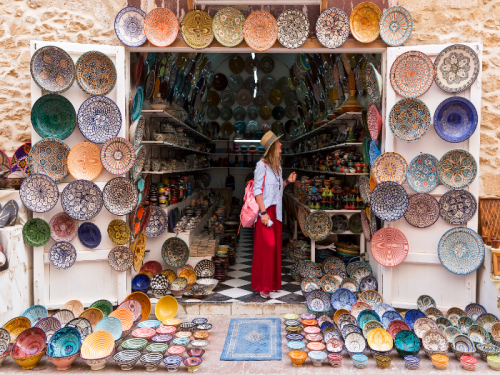 The souk market that encompasses the northern area of the square is also one of Marrakesh biggest attractions. An uncountable amount of small alleyways intertwine into what seems like a spider's nest, where food, daily goods, clothes, pottery, leather goods, and metallic handicrafts line up one after the other. Out of this sea of goods, we are captivated by the beautiful ceramic plates. Vivid colors and exotic patterns make these plates trascend the tableware status, evolving into art that can be put into the walls for decoration. As they are handmade, all the patterns are unique and have their own peculiarities. These kind of moments are the ones most enjoyable during our journey.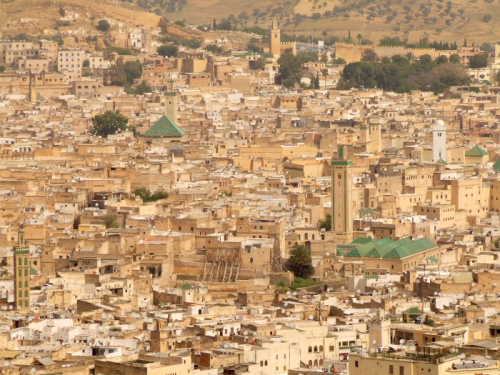 Fes: The biggest labyrinth city in the world.
Of all the complex-structured medinas, the medina in Fes is special, with over a thousand years of history. Because its structure is similar to that of a giant labyrinth, the medina in Fes is referred as the world's biggest labyrinth city. Once we pass through the blue arabesque patterns of the Bab Bou Jeloud gate, an incredible world of infinite alleys filled with bustle expands before us. As this is a car-free area, its buildings and mosques have been preserved since medieval times. Walking these intricate alleyways are a great way to enjoy the Islamic world.