The Beautiful Island known as a "Continent in Miniature"
2021/6/18
Las Palmas (Canary Islands)
During holiday season, the Canary Islands are a preferred destination for many people from all over Europe. They are composed of eight main islands located off the northern coast of Africa, 100 kilometers west of Morocco. While the islands are a Spanish autonomous community, geographically they are part of the African continent. Although a rather unknown destination for Japanese travelers, the Canary Islands are widely known as the "Hawai'i of the Atlantic," boasting sunny beaches with beautiful oceans, and a uniquely developed island culture and food. Many people exclaim that this is a place they would never have visited if they had not taken part in an around-the-world voyage.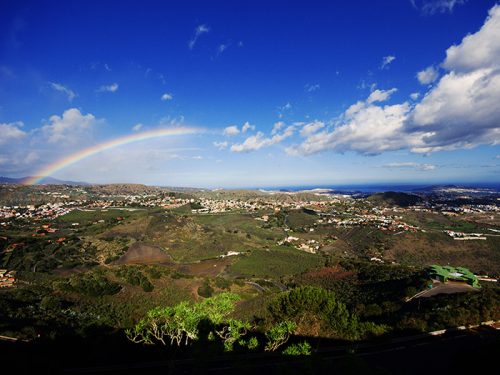 A Great View Weaved by Sand and Sea
Our ship calls in Gran Canaria, the biggest city of Las Palmas, and one of the eight populated islands. Due to its rich landscapes that include beaches, canyons, and woody mountains, the island is referred as a "continent in miniature." Visiting the southern area, by the coast you will find one of the places to experience this diversity: the Maspalomas Dunes. Here you can admire how the sea, beach and sand dunes are connected, making a beautiful picture with exquisite composition. Moreover, it is said that the sand of these dunes comes from the Sahara Desert, having been carried over by the wind.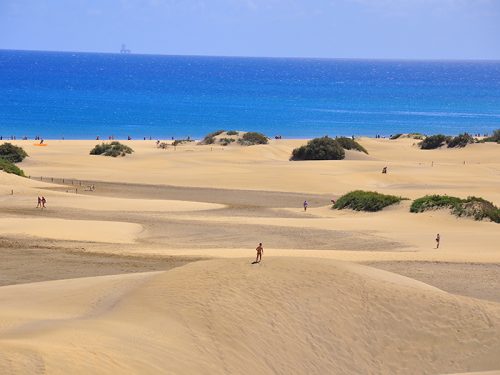 In the face of these dunes, everyone lets out their inner child. People take off their sandals in the blink of an eye, and feel the heat of the sand while running over it. Having been heated by the sun the sand is hot, though not so much that it is unbearable. Yet, many people do give up and go back to wearing their sandals! Once you reach the top of the dunes, you can see your whole surroundings. Admire the textures drawn by the wind over the dunes, without a single footstep in the sand. It is an incredible thing to feel that you are walking in the world's greatest desert, the Sahara, while on an island in the middle of the Atlantic. This kind of experience is unique to Gran Canaria.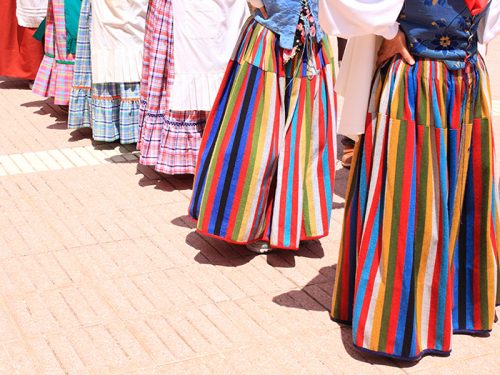 Experiencing a Culture Born from the "Age of Discovery"
In the 15th century, as the curtains of the so-called "Age of Discovery" were raised, the Canary Islands became an Spanish territory. It then became an important stop on the route from Spain to the South American continent, and it was with this background that what we now know as Canarian culture was born. Canarian culture mixes cultural elements from the indigenous Guanche people with cultures of Spain, Latin America and Northern Africa. During our visit we join a cultural exchange programme at Ingenio City, where traditional culture is particularly alive. First we try some traditional outfits. They are so colorful and flashy that it might be difficult to wear them at home. Feeling slightly out of their comfort zone, many participants express their excitement with a smile.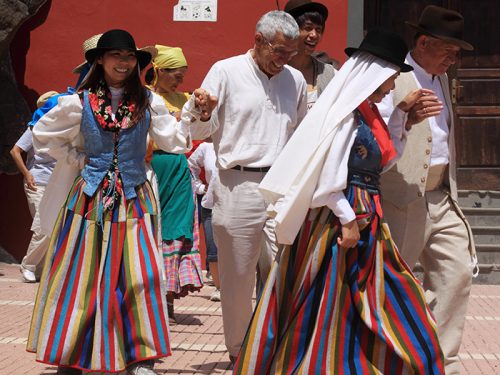 Wearing the traditional Canarian clothes, we start to feel like locals. With the support of our local partners, we also try some Canarian dance. At first it feels quite hard, but after a while it becomes easier to go along with the music. Even those who don't usually dance are surprised and moved to find this new facet of themselves! Before we realize it, it's lunch time. Today we will have traditional Canarian gourmet: Papas Arrugadas. This is a dish that uses small unpeeled potatoes, originally from Latin America, with Mojo sauce on the top.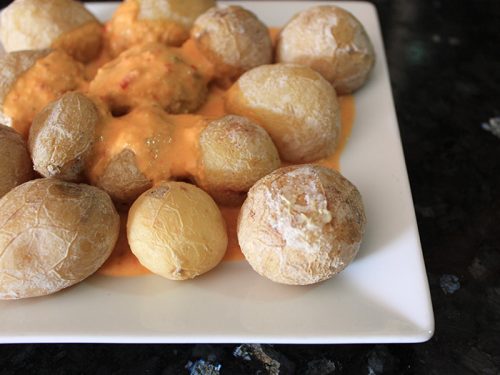 Tasting Canarian Delicacies
Mojo sauce is the representative flavor of the Canary Islands. Olive-oil based, this sauce includes garlic, bell pepper, vinegar and lemon as its ingredients, making it a refreshing flavor with hidden spicy tones. Seafood dishes often use a Mojo sauce seasoned with basil and other herbs. It is wonderful to try this sauce along with some fresh-boiled potatoes. Its flavor will make your hands bring potatoes non-stop into your mouth! As expected of a Spanish territory, you can also find good wines for a reasonable price. While it is said that red wine goes well with red meat, and white wine with fish and seafood, please try whatever combination you like, as all choices are delicious.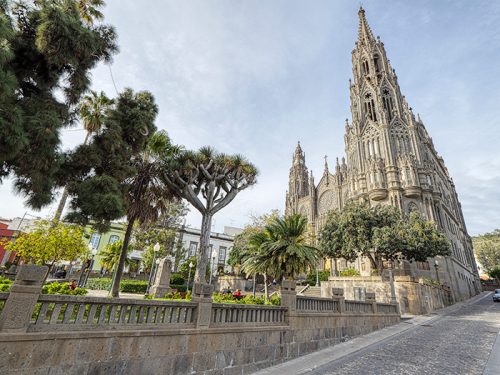 Walking the old capital of Gran Canaria
Walking around the different towns while in Gran Canaria is a great way to spend your day. Arucas, in the northern part of the island, is well known for its colorful and cute buildings. San Juan Bautista's Church particularly stands out, a symbol of the city. The inner stained glass and its beautiful colors are a must see. In the city of Teror, you can find many stone buildings, typical of Spanish architecture. These buildings make amazing photogenic spots. Moreover, there is also a place called "Hiroshima and Nagasaki Square." Here, you can find a monument engraved with Article 9, the peace clause of the Japanese Constitution. Even on this remote island, people appreciate the importance of this Article 9 in building peace.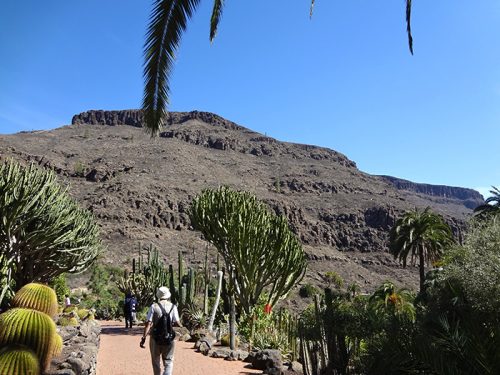 Mountain Hiking in the Middle of the Atlantic Ocean
One of the most popular activities on Gran Canaria are hiking and trekking in the mountains. This walk is completely different from those you can experience in Japan, with many cacti, a dry road is made of gravel, and scenery extending all the way to the horizon. By walking under the bright sun you can understand why people say it's always spring in Gran Canaria. The sunny weather, dry air, and refreshing winds make for a great walk in the mountains. This is a special experience that you will not be able to forget.
PHOTO: PEACEBOAT, Kataoka Kazushi, Nakamura Mitsutoshi, Nakamura Ryo