The Beauty of Alaska -2-
2021/10/08
Ketchikan and Seward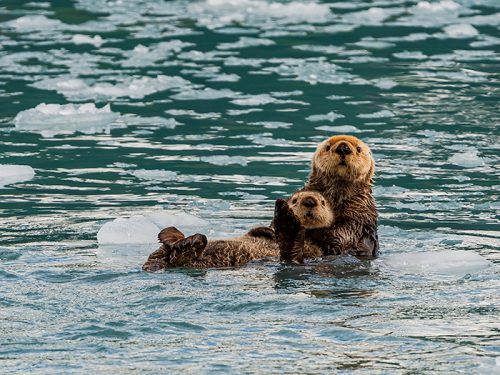 One of the biggest pleasures while cruising around Alaska lies in observing the magnificent 1600km-long Inside Passage. The second pleasure, without a doubt, is the encounters with wildlife. And, of course its short but beautiful summers. According to Mr Ando Masayasu, an expert on Alaska, the culture and nature of this wonderful land is sure to charm everyone.
Mr. Ando is a specialist in Alaskan adventure and the representative of HAI Shirokuma Tours, LLC. He coordinates visits of Peace Boat voyages to Alaska. Always with new ideas, Mr Ando introduces the "last frontier" from various perspectives.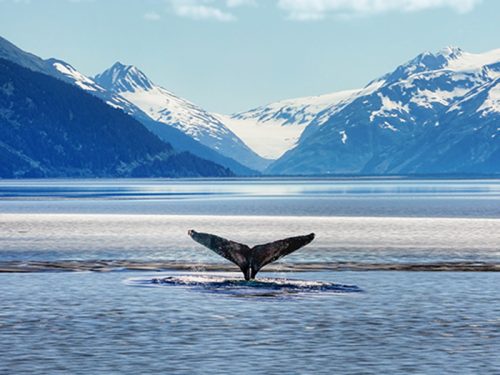 Animals of the Alaskan Sea
During summer, people cruising the Inside Passage will have greater possibilities to view large marine creatures. Humpback whales are specially easy to spot during this season. With enough luck, you may even see them jumping out of the water, or "breaching" – a sight sure to touch your heart. Be sure that you have enough battery in your camera to take photos – and have a spare one ready!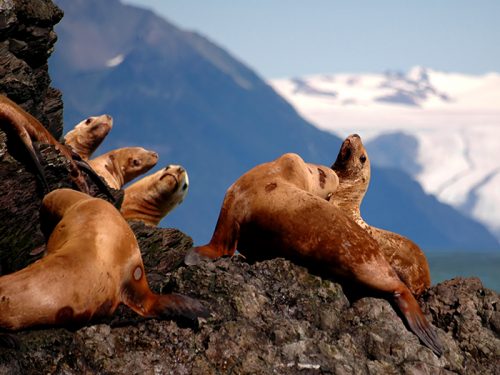 There are also opportunities to encounter orcas or dolphins. There are two type of orcas, traveling and sedentary. Traveling orcas are mainly carnivorous and feed on fish, seals, Steller sea lions, and dolphins. As a result, other large marine creatures tend to run away from Orcas. This means that to watch an orca, you may not have the chance of seeing other creatures. However, in Seward, there are about 40 sedentary orcas, which are quite calm and mainly feed on fish, therefore are able to coexist closely with other marine creatures. That is why near Seward, and with enough luck, you can watch orcas, whales, and dolphins.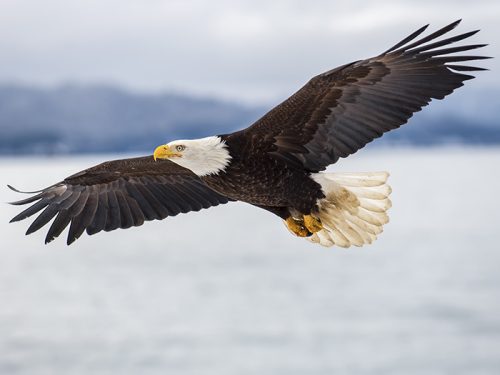 If you look up into the sky you may be able to spot a bald eagle, relatively easy to identify due to their white heads. There is also a very rare type of bear with ashen blue hair – the glacier bear. They are so rare that even renowned Alaska photographer Hoshino Michio talks about how he dreams of capturing this extremely rare species on film. Even researchers and wildlife photographers rarely hav a chance see them. So while the possibility may be close to zero, there is still a chance of a miracle happening as you gaze into the deep Alaskan forest.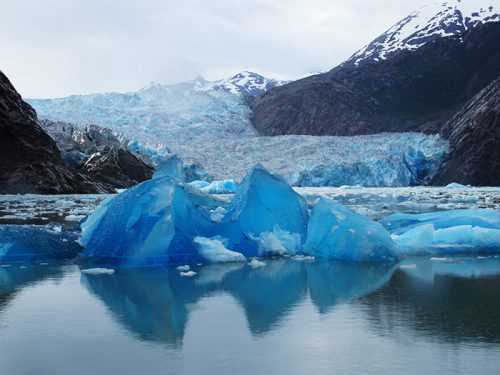 The Exquisite View brought by Rain
While many may believe it's always cold in Alaska, you can enjoy relatively warm weather during July in the southeast coast of the Inside Passage – Alaska's warmest area. With the humid marine winds entering the fjords, precipitation in this area is bountiful, nurturing the mossy forests, and allowing you to enjoy many organic sceneries. While rains are heavy, the weather around this area is peculiarly known to change abruptly. On the same day it may be sunny, cloudy, and rainy. Each kind of weather provides a different panorama to enjoy. Observing the wild creatures that gather in this area is another joy of an Alaskan journey.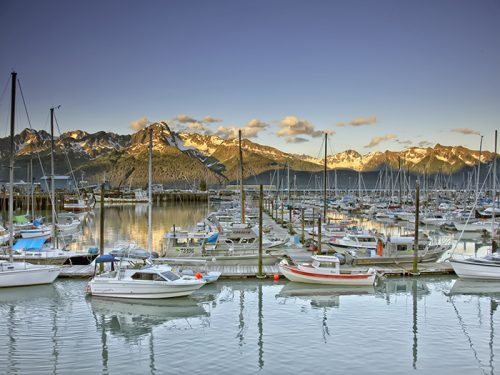 A Moment in the Port Town, Seward
If you travel across the coast of the Alaskan Gulf, you will arrive at Seward – port a town located at the base of the Kenai Fjords. Seward has a population of about 3,000, and is well known among fishermen for its high-quality marine produce. When thinking of fish from Alaska, salmon may be the first thing to come to mind. Yet, the most popular fish for locals is the halibut. The halibut is similar to a large fatfish, surprassing 3 meters length in some instances, and its body is full of thick meat. Another Alaskan delicacy is local vegetables, grown during the long days of summer. Walking around Seward, you may come across giant zucchini or pumpkins that are more than 1 meter in size!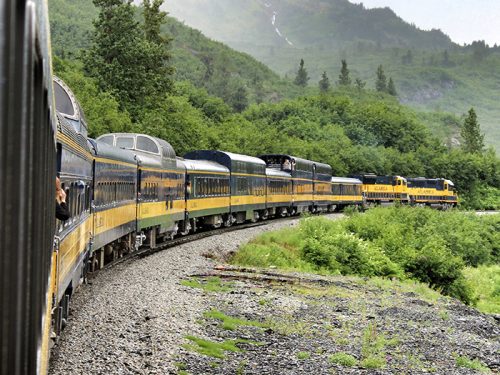 Seward is also the southernmost station of the Alaska Railroad. As this railway goes into the innerland, you can see the inland glaciars and Mt.Denali, North America's highest mountain peak. All of these views are completely different to that you can see from the coast. When visiting the station, make sure to take a picture of the symbolic navy and yellow wagons. With its nature and people, Alaska shows images of magnificent beauty as well as extreme conditions. We hope that these words give a slight taste of Alaska's abundance, and that you will have the chance chance to enjoy Alaska and its organic charms directly!
PHOTO: PEACEBOAT, Gerald Corsi/GettyImages, Mizumoto Shunya