93rd Voyage – Life Onboard Highlights ~ Rio de Janeiro to Ushuaia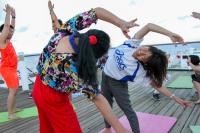 A Japanese participant and a Chinese participant enjoy a relaxing evening yoga session on the ship's top deck together. Participants have the opportunity to take part in many physical activities on board to stay fit and healthy throughout the voyage—other offerings include martial arts like Tai Chi, early-morning radio exercise and Zumba dance classes. These activities provide a great opportunity to make new friends and develop new hobbies, breaking down barriers in the multi-lingual, multicultural onboard environment.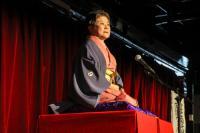 Ms. Kokontei Kikuchiyo, who boarded Peace Boat in Rio de Janeiro, Brazil, performs her first Rakugo (traditional Japanese stand-up comedy) session on stage. Over 99 per cent of top-level Rakugo performers are men; Ms. Kokontei is one of the few female performers at the highest level of the profession. Rakugo performances usually involve humorous dialogue between multiple characters performed by the artist, often telling the story of life's daily struggles. During her time on Peace Boat, Ms. Kokontei will be conducting Rakugo workshops for any aspiring performers onboard.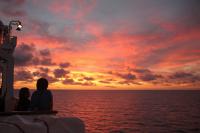 Two participants enjoy a breathtaking sunset from the eighth-floor deck a few days after Peace Boat departed from Rio de Janeiro, Brazil. Appreciating the majestic beauty of the sea and sky is something which many participants describe as being one of their favourite activities onboard Peace Boat. "Sunsets are a time where we can come together and share a moment which transcends language barriers," commented Roxane Borowska, who teaches English onboard as part of the GET Programme.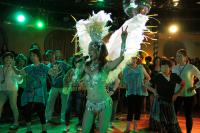 As Peace Boat sailed from Rio de Janeiro, Brazil to Montevideo, Uruguay, a special Samba night was held onboard during which participants could learn the basic steps of the traditional Brazilian dance whilst enjoying refreshing Caipirinha cocktails—Brazil's national cocktail which contains sugarcane liquor and lime juice. Peace Boat often holds lively events which offer participants the opportunity to experience the culture and traditions of particular countries which they visit during the voyage.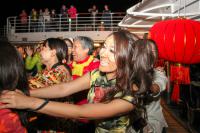 On January 27, 2017, Peace Boat celebrated the Chinese Lunar New Year's Eve with a special feast for dinner followed by an evening of jolly festivities which continued late into the night. For the first time in its 33-year history, Peace Boat is hosting as many as 60 Chinese participants aboard on the 93rd Global Voyage. "It was a very special occasion to celebrate Chinese New Year on the boat, as we usually spend the day with close family only," explained Matt Liao, a participant from Taiwan.