93rd Voyage – Life Onboard Highlights ~ Ushuaia to Punta Arenas
On February 3 and 4, participants were enchanted by expansive blue and white landscapes as Peace Boat sailed through Antarctica for the first time in seven years. Captivated by the raw beauty and wilderness of the region, many participants spotted a variety of creatures including whales, penguins and seals. "I didn't know what to expect of Antarctica, but seeing it with my own eyes was quite overwhelming – it was so beautiful", commented Ota Arisa, a Peace Boat participant.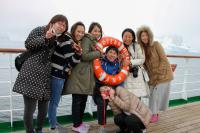 Participants enchanted by the natural beauty of Antarctica.
Cameron Joe, an English language teacher on the GET programme, enjoys dancing at the 'silent disco' onboard. Participants had the opportunity to be their own DJ for the night, by bringing along their favourite playlists which they listened to on their mobile phones or portable music players with headphones. "It was a magical night of self-expression", exclaimed Cameron.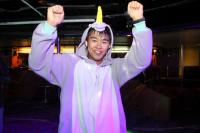 Enjoying the silent disco onboard.
A Peace Boat participant dressed as a comical demon gets ready to chase his friends for Setsubun – an annual event in Japan which is celebrated on February 3. "Oni wa soto, fuku wa uchi [out with the devil, in with good luck]" is a phrase often shouted by small children on Setsubun as they try to chase away the 'demon' (usually a family member wearing a mask) by throwing soy beans at it. Many people often eat a large sushi roll for dinner in the evening, which must be consumed all in one go, facing the auspicious direction of the year!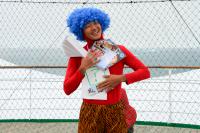 Celebrating Setsubun onboard
During the 93rd Global Voyage, a series of interactive events onboard focused on the question "What is Normal?" Individual events covered topics including stereotypes, gender, and national identity, among others. In a conversation discussing eating habits, Yalu Liu, a Chinese panelist, explained to the audience her transition to veganism over the past two and a half years: "There is no doubt that we can stay strong and healthy on a plant-based diet without sacrificing the right and desire to life that all animals share. I believe that our planet would be far better off if we all made this transition."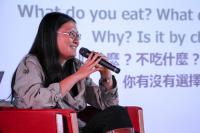 Yalu Liu speaks of her transition to veganism.
Roxane Borowska, an English language teacher on the GET programme, hosts one of her 'face yoga' workshops. "Your face is made up of over 60 muscles that can be toned in the same way as your body. It is never 'too late' and you are never 'too old' to tone your muscles. Anybody can do it anytime, anywhere," she says. Her workshops attract a diverse crowd of women and men of many ages, who enjoy the exercises as much as the laughter they bring.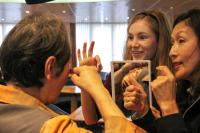 Participants enjoy a face yoga workshop.