International Exchange Onboard Peace Boat, Mar 21, 2017
For the first time in its 33-year history, Peace Boat welcomed as many as 40 Chinese participants aboard for the 93rd Global Voyage, as well as nine Singaporean participants, nine Taiwanese participants, and three Korean participants. To celebrate this diversity, the theme for the 93rd Global Voyage has been "International Exchange for Peace".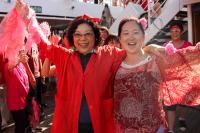 A Chinese participant and a Japanese volunteer celebrate after winning a game during the onboard sports festival.
In order to facilitate communication between people of different nationalities onboard, non-Japanese participants have the opportunity to attend daily Japanese language classes. "These classes have helped me to make many Japanese friends onboard – I have a group of four Japanese friends who I chat to everyday. It has been a wonderful experience," commented Wu Xongxing, a Chinese participant.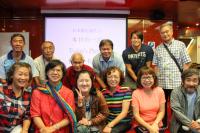 Kim Younghee and her Japanese language students smile for the camera at the final class of the voyage.
Korean language classes are also available for anyone with an interest, and many Japanese, Chinese and Singaporean participants attend these lively sessions which are held every morning. "Although Koreans and Japanese are close geographically, their hearts may not all be so close to one another. This is something I hope to change, and I believe Peace Boat is contributing towards that goal", remarked a Lee Wongyu, a Korean participant.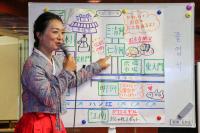 Park Jiyeon, who teaches Korean language classes onboard, gives students her tips for sightseeing and eating in Seoul.
Aside from language classes, many of Peace Boat's lectures and workshops are offered with interpretation into English, Chinese and Korean, making the onboard atmosphere truly international. There are also special events which provide participants a deeper understanding of different cultures, such as the Chinese Lunar New Year's Eve, and a Korean-themed evening which showcased Korean music, dance, games and sports.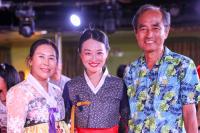 Park Jiyeon, a Korean volunteer, and two Korean participants enjoy themselves at a special Korean Night event.
Shereen Lee, a Singaporean participant, holds daily teatime chat sessions with her Japanese friends onboard to allow them an opportunity to practice their English: "I primarily joined this voyage because itinerary was so exciting, but being able to interact meaningfully with people from other countries onboard has become one of my favourite activities." Peace Boat hopes to welcome an ever-larger cohort of international participants on future voyages, thereby further contributing to international understanding and exchange—both essential ingredients of a peaceful world.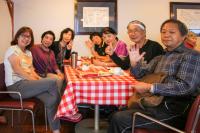 Shereen Lee, a Singaporean participant, meets her Japanese friends for afternoon tea every day.