[98th Cruise Report]Our Lives we had on Peace Boat
Aug 22th
Today, we docked in Kobe, our last destination for 98th Voyage. Let's cherish the once-in-a-lifetime chance of the fate that brought us together. We spent our time living, sharing what we learned, and enjoying everything on the sea together! I hope one day we can meet again somewhere in the world.
Video 15: The videos about our lives on Peace Boat 98th Voyage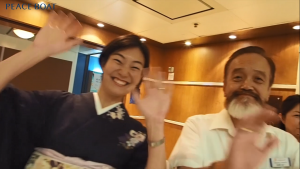 Click Here#Introduction of Web Reporter
My name is Shih-Yu Wu and I am from Taiwan. I'm an English and Chinese web reporter on 98th Voyage. It is my pleasure to share the moments and new life experiences we had on 98th voyage in these three months. I hope those who read and see my articles, pictures and videos can remember their amazing experiences on the sea.