[99th Cruise Report]Puerto Quetzal, Guatemala ~Mangrove Forest Experience and Community Tourism~
Nov.23th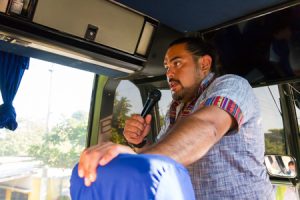 On our second day at Puerto Quetzal we joined an Optional Tour that visits a town that has recently been receiving a lot of attention for its community tourism initiatives. The town, Monterrico, has a population of approximately 6000 people. Mr. Flor, the director of the Monterrico chapter joined us on the bus and spoke to us about Guatemala on our way.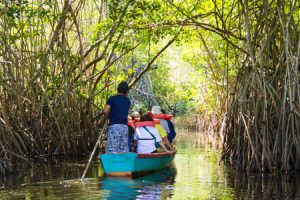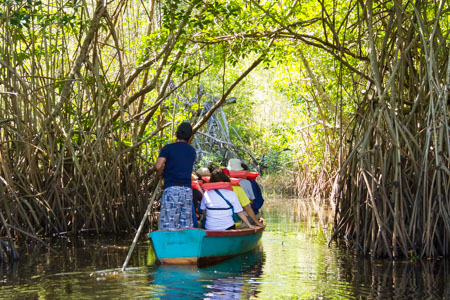 When we arrived in Monterrico, we first hopped on a boat to go see the mangroves.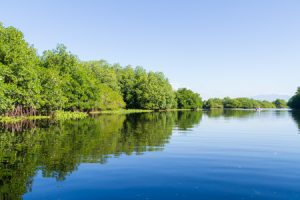 After traveling a little while, we began to see the beautiful mangrove forest ahead of us. We continued forward while watching the fish swimming in the water below us, and hearing the chirps of many birds above us.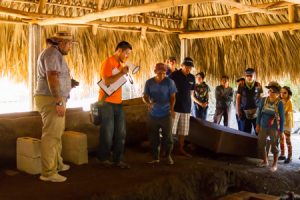 Halfway, we arrived at a small island. We learned that here, they make salt from the minerals found in the salt water around the the island. All of the participants listened intently to the locals' explanation on how to make salt.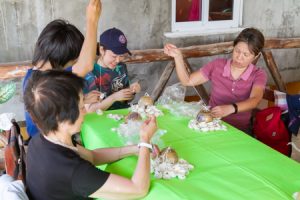 After lunch, we participated in a souvenir-making workshop. The participants had a chance to make seashell necklaces and home decorations. In Monterrico, they use materials found in the natural environment around them to make the souvenirs they sell. It proved more difficult than anticipated, but the participants all seemed to be enjoying making their own souvenirs.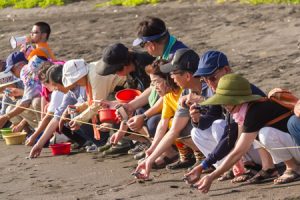 At the end of the tour, we visited a sea turtle conservation center in Taxisco. It happened to be breeding season for sea turtles when we visited, and during this time the sea turtles come ashore at night to lay eggs. However, unfortunately many people come to poach these eggs to sell or to eat. This is why the conservation center collects the eggs that the turtles lay on the beach and return the newborn turtles to the ocean when they hatch. Today, each participant had the opportunity to return one newly hatched sea turtle each to sea.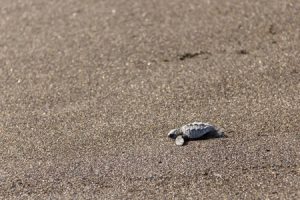 The sea turtles each made their way to the sea as everyone watched on. Everyone silently prayed for that the turtles will live a long and happy life. Tour participants were happy with their experience, and said, "the opportunity to go to a mangrove forest is something special." Others mentioned that they enjoyed being able to talk to local people in Guatemala during the tour. We were fortunate enough to have met many kind people in Monterrico, and ended the day grateful for all of these new experiences.