[100th Cruise Report]Call to Ehoala (Madagascar)~Exchange Program~
Jan.19th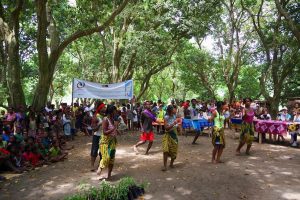 Today we had an exchange with the people of Betaligny village. As the bus arrived, we were startled by the sight of all of the villagers who had come out to greet us. All of the people in the village took the day off of work especially to greet us. On top of that, the villagers had been preparing for weeks for our visit. They built a kitchen, tables, chairs, and toilet in a space which had been completely empty. Their hospitality was truly heartwarming.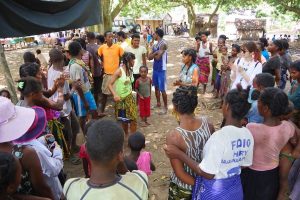 Betaligny is a small village of roughly 200 people and normally tourists do not come to visit. We are the first group of foreigners that many of the children have seen, they seem nervous but curious as they try to communicate with us. As we danced and sang traditional songs from the village together, there was an instant air of comradery.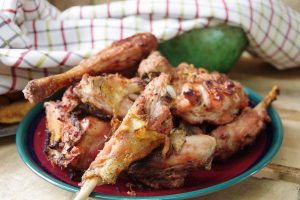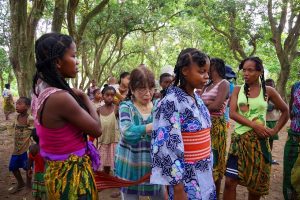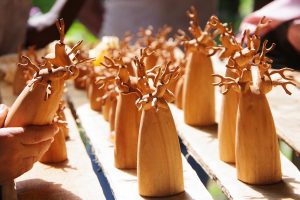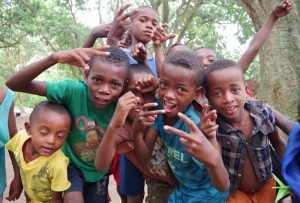 The people of Betaligny make their living by making baskets, wood crafts, other handicrafts, and farming. However, the daily wage of the entire village combined is only 100 to 150 Japanese yen. Regardless of that, they prepared a large feast of freshly grilled chicken, fried fish, vegetable soup, and other food. As we ate, the warmth of food filled our stomachs and warmed our hearts.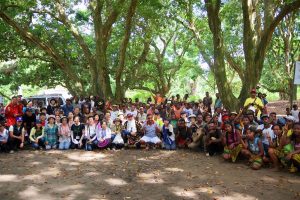 In gratitude for the wonderful hospitality, we sang a song for them. The song was "It's A Small World". Our hearts were warmed by the lyrics, "and a smile means friendship to everyone," which seemed to be particularly fitting for today. At the end, we all sang together. On our two day journey in Madagascar we were able to experience the warmth of the people and were moved beyond words. The smiles of the people will stay with us in our hearts. Our next port is Port Elizabeth in South Africa! The Ocean Dream is finally headed for the African continent.