[100th Cruise Report] Uruguayan Vice President Lucia Topolansky visits Peace Boat
Feb.13th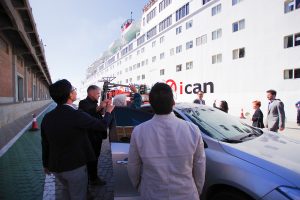 The Ocean Dream is calling in Montevideo, the capital city of Uruguay located in South America. Lucia Topolansky, now the current vice president of Uruguay, is coming to the ship! Vice President Lucia Topolansky is also the wife of former president Jose 'Pepe' Mujica who is known for being "the most humble president in the world". When the car pulled up to the side of the ship, Lucia appeared with an impressive warm smile is impressive and was welcomed by roaring applause.
Actually, Lucia is visiting the Ocean Dream for the second time. The last time was two years ago on the 93rd voyage when she came on board with former president Mujica. We are very excited to welcome Lucia and we are very grateful to her for adjusting her schedule to be able to come and visit Peace Boat.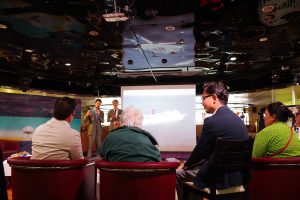 Firstly, there was a presentation about Peace Boat's different work and activities. Peace Boat introduced various projects including; initiatives regarding the 17 Sustainable Development Goals (SDGs), the sharing of nuclear bomb survivors' testimonies through the Hibakusha project and ICAN's campaign for a nuclear free world. She listened attentively nodding and remarked that "Uruguay has similar aims and how she felt empathetic to the cause".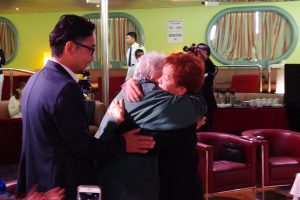 Ms. Junko Watanabe got on board from Rio de Janeiro as part of the Hibakusha project to share testimony about her experience surviving the atomic bomb, on board and in the various ports of call. Ms. Watanabe was overcome by tears as she said, "I was very shocked when I saw video footage of the bombing. I was confused by the sounds of children calling for their mothers, feeling almost as if it were myself and my own mother. I am very lucky to still be alive. I continue to give testimony of my experience to work toward a nuclear free world and to make sure that this tragedy is never repeated." Lucia kindly embraced Ms. Watanabe as she cried. Everyone in the room was overcome by emotion watching these two women.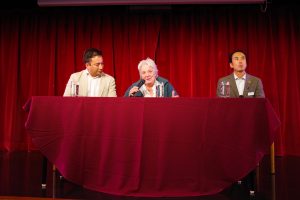 We then changed venues and listened to a speech by Lucia. When she appeared, the crowd erupted with cheers and applause. Everyone was overcome by the fact that Lucia came to visit Peace Boat and were waiting with baited breath for the words that she would share.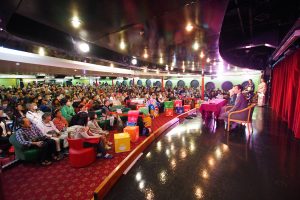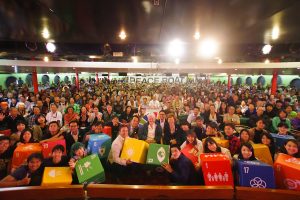 "It is truly wonderful to have so many people on a large ship going around the world to spread the message of peace. We will surely welcome you every time that you visit Montevideo. What you are all doing is extremely meaningful, I would like to express my gratitude on behalf of the people of Uruguay. Thank you very much." The entire audience was captivated by Lucia's warm and powerful words.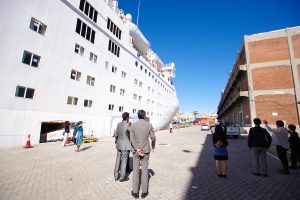 We are very honored to have the Vice President come and visit the ship. Hearing her heartfelt speech was a valuable experience that allowed us to again realize the meaning of participating in Peace Boat and the meaning of the voyages themselves.