[101st Cruise Report]Call to Rapa Nui (Easter Island)
June.27th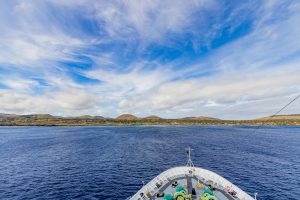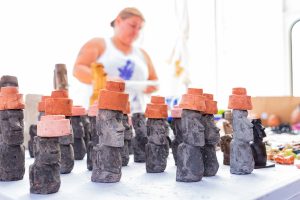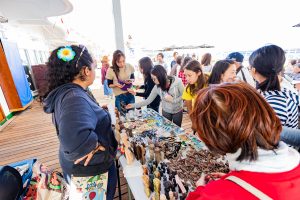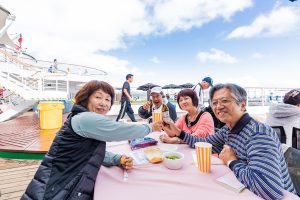 Rapa Nui (Easter Island) is an island located 3,700 km off the coast of Chile. The closest inhabited island is more than 2,000km away. Many people on this voyage were particularly looking forward to their visit to Rapa Nui. While docked off the coast of Rapa Nui, many vendors came to sell souvenirs onboard the ship and many people gathered to see what treasures they could find. A beer garden was put up next to the vendors so that people could enjoy a beer while listening to live band performance. It was a special chance to enjoy a beer while gazing at the beautiful island of Rapa Nui.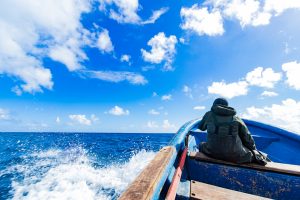 As there are no ports in Rapa Nui that can accomodate large cruise liners, the Ocean Dream docked off the coast of Rapa Nui, and tender boats were used to go ashore. The tender boat ride lasted for about 5 minutes, and we were finally able to step food on the island. We first headed towards a village called Hanga Roa.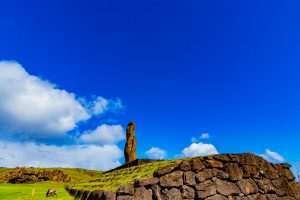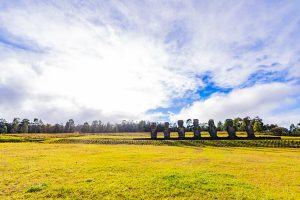 We were greeted by a single Moai as we arrived at the village. We were all very excited to see our first Moai and many people clapped and cheered. Time seemed to flow at a different pace in this village and the bright and peaceful atmosphere was soothing.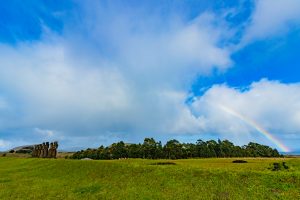 As we were walking around the Moai, someone spotted a rainbow above the ocean. Rainbow sightings are a common phenomenon during rainy season in Rapa Nui. It was very magical to see the rainbow making its arch over the Moai.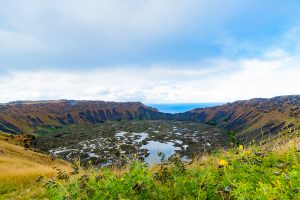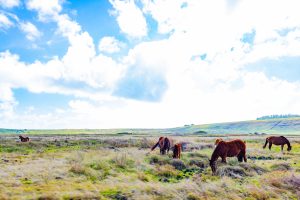 Next we headed toward the southernmost part of the island to see the Rano Kau volcano. We were able to see the crater lake that is 1.6km wide in diameter from the viewpoint. The wind was blowing strong, but it didn't stop us from taking in this beautiful view of the volcano.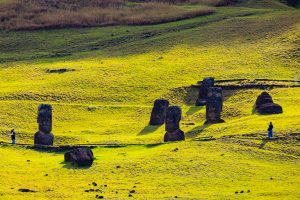 Our next stop was to Rano Raraku, the site where we were able to see Moai at different stages of production. Around 400 Moai can be seen at this site; some sitting, and some on their sides. It still remains a mystery as to why these Moai were left behind without being completed.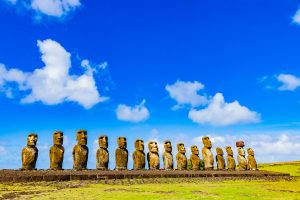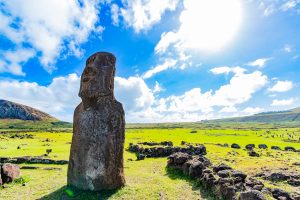 Our final destination was Ahu Tongariki, about 5 minutes from Rano Raraku. 15 Moai standing in a row can be seen at this location. They are placed on an altar called a Ahu which is 100m long and 6m wide, and it is said to be the largest Ahu in all of Polynesia. The weather cleared up and the sun shone brightly down through the white clouds. The sight of these 15 Moai standing in front of the ocean was breathtaking. Each Moai had unique characteristics and no two Moai were alike.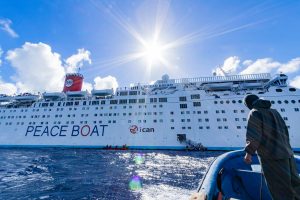 The mysterious and magical island of Rapa Nui. This island has a unique culture that was slowly cultivated over time, and we felt that we could feel the island speaking to us. We could feel the power of the island as we learned about the history, nature, and lifestyle of the people of Rapa Nui. The Ocean Dream is now cruising through the Pacific Ocean heading west, and our next destination is Papeete, Tahiti.