[101st Cruise Report]Brisbane(Australia)
July.18th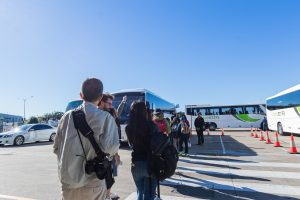 On a beautiful Brisbane July day with clear blue skies and a "wintry" 20 degrees, the Ocean Dream arrived at the Port of Brisbane in the eastern suburbs of Hamilton.
This marked nearly twenty years since Peace Boat last visited Brisbane, and during this visit a group of Peace Boat participants joined a programme around South Bank and the cultural precinct with local indigenous organisation, BlackCard. Based upon the research of University of Queensland lecturers Drs Lilla Watson and Mary Graham, BlackCard was founded with the idea of promoting awareness and understanding of indigenous values, cultures, and perspectives.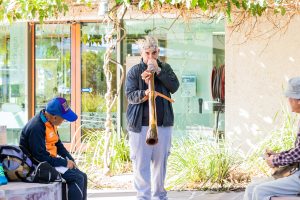 The introduction to one of the oldest continuous cultures in the world began in the Kuril Dhagun Indigenous Knowledge Center in the State Library of Queensland, starting with a traditional Welcome to Country. Explaining the significance of the didgeridoo in indigenous cultures, BlackCard's guides led the group around South Bank explaining the significance of the land to its traditional owners, as well some of the local myths and legends associated with the area.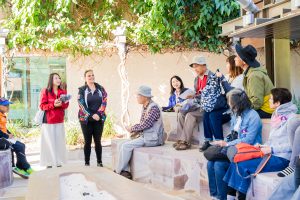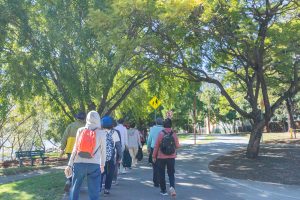 Walking around, participants also had the opportunity to learn about some of the more recent, darker history that indigenous Australians have had to face, including widespread killing and imprisonment, the forced removal of children from their homes, and the struggle to maintain traditional cultures and practices.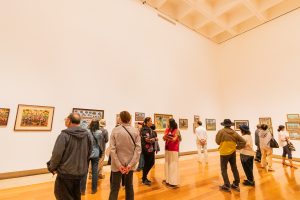 At the Queensland Art Gallery, the group saw an exhibition of the artwork of Albert Namatjira, the first indigenous person to be granted Australian citizenship, and heard the story of his life and legacy.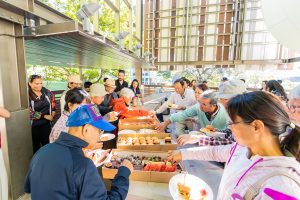 They then headed back to Kuril Dhagun for lunch – an assortment of indigenous-inspired dishes using local ingredients, including kangaroo and crocodile meat sandwiches, wild nuts and berries, and lemon myrtle tea.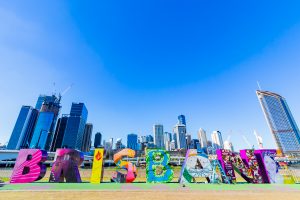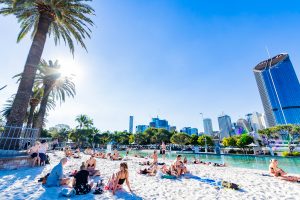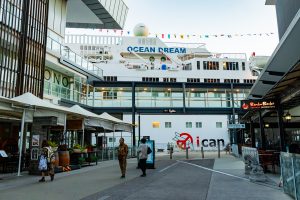 Although it may have been a long time since Peace Boat's last visit to Brisbane, this was certainly a memorable call, gaining insight into the culture of the original inhabitants and traditional owners of the Australian continent. As the voyage makes its way around the globe, each port brings an opportunity to learn something new. With the sun setting on the Queensland capital, it was time to bid farewell to Brisbane and head north towards the Great Barrier Reef, and onwards to Cairns.