[103rd Cruise Report]SDGs Day
Jan.29th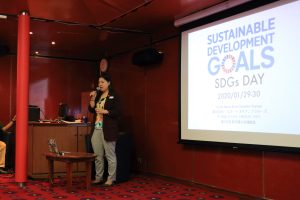 As "SDG Day", various events related to the SDGs are being held all over the ship today. The SDGs, or the Sustainable Development Goals, were adopted by the United Nations at a Summit in September 2015, and set an action plan for all UN member countries to work towards. Various targets towards peaceful and fair lifestyles, and making our rich global environment sustainable, are set as part of the SDGs, and universal action towards achieving them is now being called for. As an organisation with Special Consultative Status with the United Nations ECOSOC, Peace Boat is also sailing as a flagship for the SDGs, carrying out various projects towards their achievement.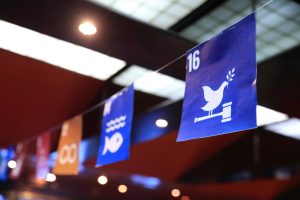 Just hearing such an explanation, this might sound like something very difficult. However, during today's programmes the SDGs are being introduced in a variety of ways, accessible to all.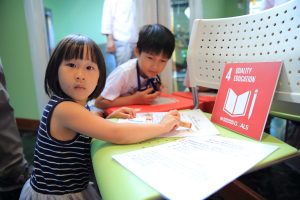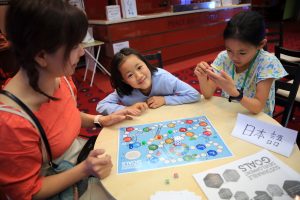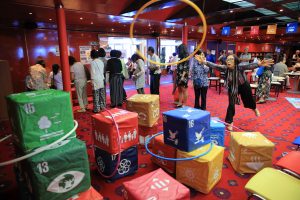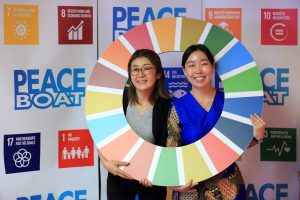 Such as this one! A stamp rally is being held all over the ships, with a quiz. There are also dice corners and other games, as well as photo booths – it's almost like a festival. There are many ways to creatively enjoy learning.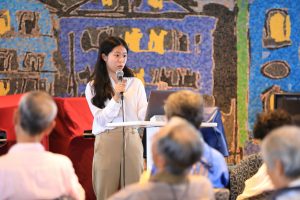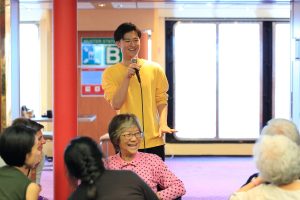 Of course, there are also many lectures onboard the ship, and events which are unique to Peace Boat. There are events to introduce various alternative education methods from around the world, to watch a video of the speech at the United Nations by Malala Yousafzai, the youngest Nobel Peace Laureate and human rights activist, and areas for discussions amongst passengers. Through this we could confirm the importance of gender equality and education beyond borders of nationality or generation.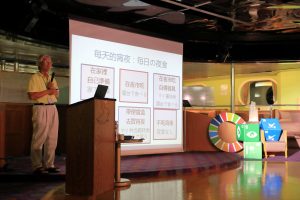 Here, a lecturer from the Taiwanese environmental NGO The Society of Wilderness, is speaking about the issue of marine pollution and what we ourselves can do.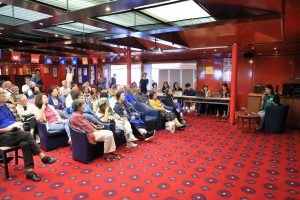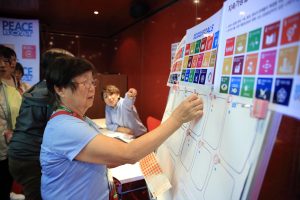 Today's programme was full of diverse ways to learn about the SDGs. Through this experience, participants can not only deepen their understanding of the NGOs, but also think of things in their own context, coming up with many ideas of what we ourselves can do for a more sustainable future!