[103rd Cruise Report]Rabaul (Papua New Guinea) -The Visiting Rabaul School and a Social Meeting-
Feb.7th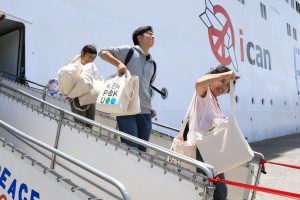 The Ocean Dream arrived at its last port of call, Rabaul in Papua New Guinea. Today, we joined the "Rabaul School Visit and Exchange" programme. All the participants left from the ship with something in hand… It's UPA supplies! Since 1984 Peace Boat has taken part in the "United Peoples Alliance Project", which helps deliver supplies to communities in need all over the world. To date, Peace Boat has delivered stationary supplies, sports gear, wheelchairs, musical instruments, and even a truck and ambulance, something only possible on a ship. On the passengers themselves carried out from the ship supplies donated by companies and schools.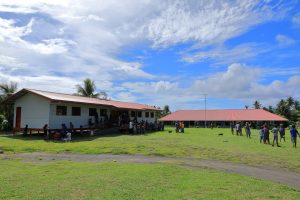 We visited Saint Martins Academy, and today a total of 120 students from 3rd grade to 6th grade joined our programme.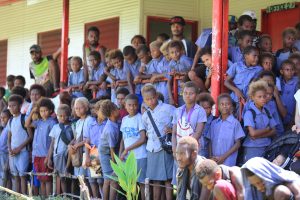 At the start the students sang the national anthem of Papua New Guinea, which although we didn't understand the lyrics, we were very moved by their heartfelt voices.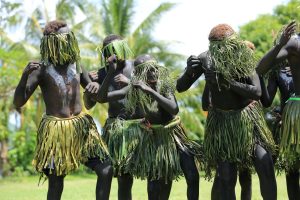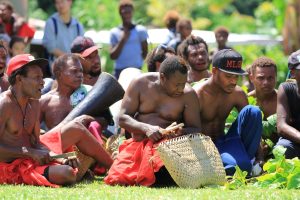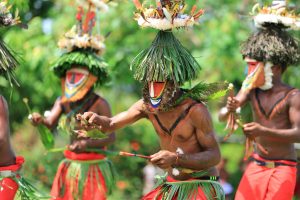 Next up was a traditional local dance, where the performers danced to the beat in vividly coloured dress.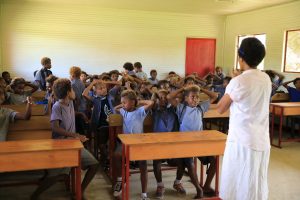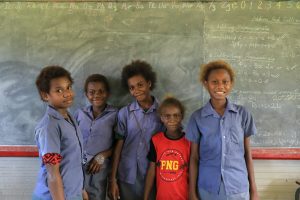 After looking at some of the classrooms, we moved onto our exchange session.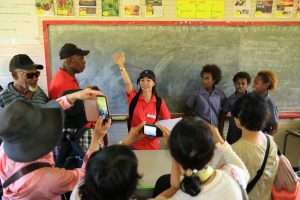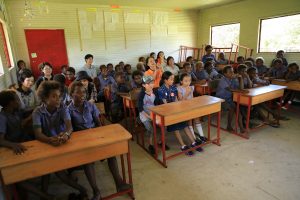 We started with an easy Japanese lesson for everyone…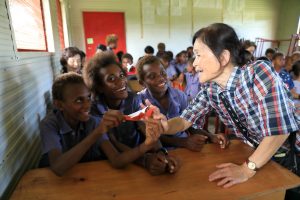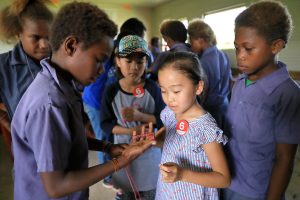 we made origami and played with ayatori (cat's cradle)…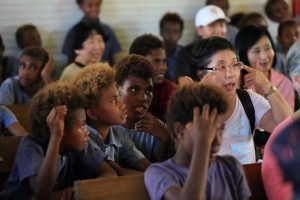 and danced! It doesn't matter if we don't speak the same language, we can still exchange culture through body language!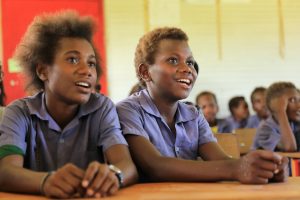 Everyone's eyes were sparkling with joy!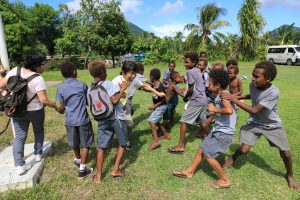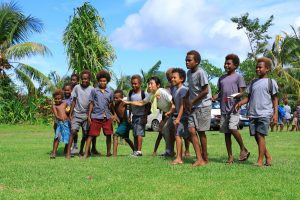 Our exchange continued on outside as well, teaching each other simple games we could all enjoy together.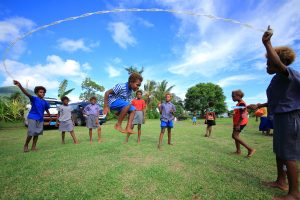 We did jump rope as well and I was surprised by how high everyone can jump!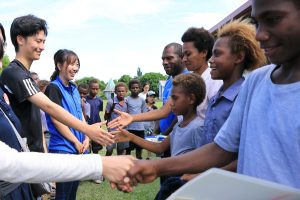 And just like that our fun time together came to an end. Whilst it was hard to say goodbye, we truly had a fantastic time together, and we finished by handing over the UPA supplies we brought for everyone.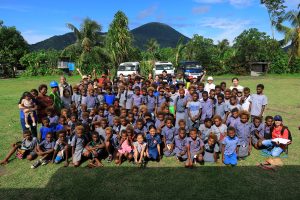 We finished our day with a group photo. We managed to make some fantastic memories through not only sightseeing but also meeting and truly interacting with the local people.