[103rd Cruise Report]Melbourne (Australia)
Jan.18th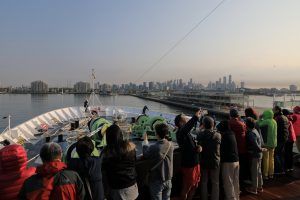 Tall buildings came into sight across the ocean. Ocean Dream has arrived in Melbourne.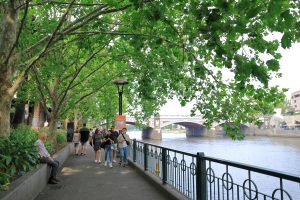 From the port, I took the tram into the city. Walking along side the river with lots of green, I am heading to the Skydeck in the Eureka Tower.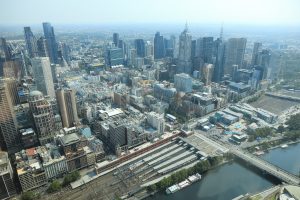 The elevator takes me directly to the 88th floor. Looking down on the city, I realized the city has both tall buildings with fair amount of greens. The relaxed atmosphere is admiring.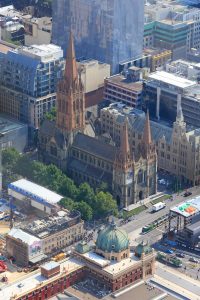 The great façade and the pointy towers belong to St Paul's Cathedral. Even the heavy building looks tiny from the Skyjack.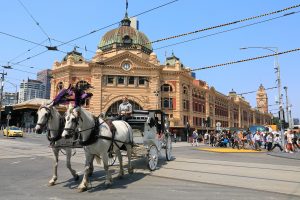 Landing back onto the ground, I started strolling from the Flinders Street Station.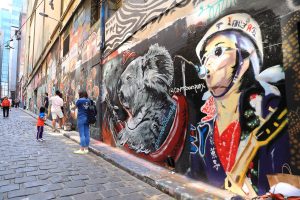 Hosier Lane is famous for the graffiti art. A lot of people come and take photo to share on SNS nowadays. I heard that the graffiti art is frequently renewed. There must be very many artists here.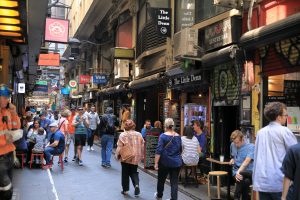 After enjoying the great art, it's time for a cup of coffee at the Lane Cafe. Many small cafes located in a narrow array. I ordered a "flat white" which is unique to Australia.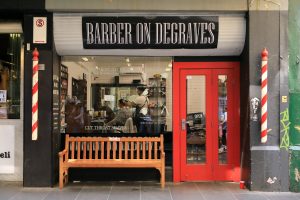 The Barber is so classic and stylish!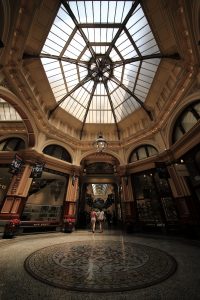 Next spot is the Block Arcade. It was built in 1892 and loved for its beauty.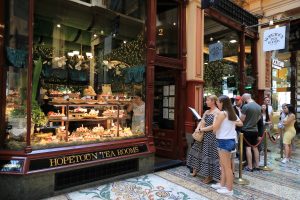 For a little treat, I enjoyed a cake in the HOPETOUN TEA ROOMS. There was a big queue to enter the 120-year old tea room.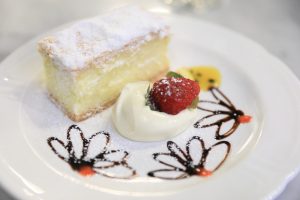 Vanilla Slice is a common sweet that the locals love. It is simply custard sandwiched with pie crusts, and normally very sweet. However, this traditional tea house makes it elegantly with moderate sweetness.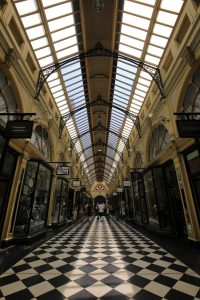 Royal Arcade is designed with straight lines, in contrast to the round shaped design of the Block Arcade. Royal Arcade opened in 1870 and is the oldest arcade in Melbourne. Historical depth and modernity coexist in this arcade.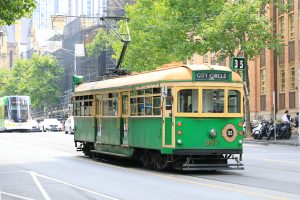 Next destination is the library that is seen often in Instagram recently. This retro-design tram takes carries me across the town.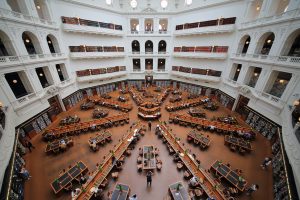 This is the Victoria State Library. Such an artistic architecture!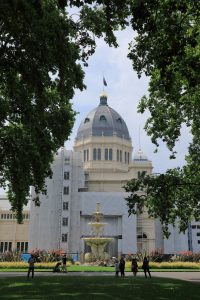 To take a break from long walk, I stopped by the Carlton Garden at the Royal Exhibition Building nearby.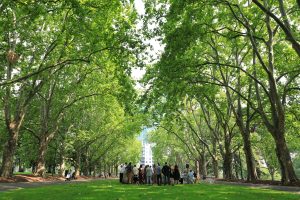 There was a wedding ceremony going on in the beautiful green background! It was such a charming scene that you get to see in Melbourne.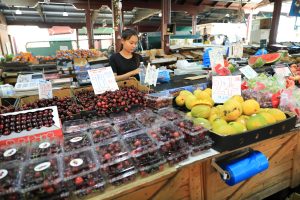 To wrap up a day of strolling, it is time for shopping at the Queen Victoria Market. Numerous shops sell various products in the vast market area. Piles if fresh fruits from Australia were looking especially attractive.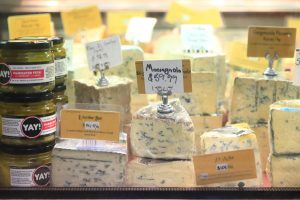 But what I came here for is cheese! Australia is famous for its wines, and produces lots of cheese too.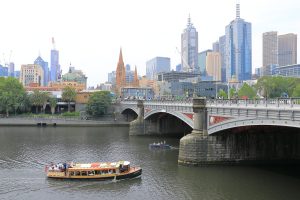 Walking back the port aong the Melbourne River, I feel quite satisfied with the day excursion in the city of Melbourne.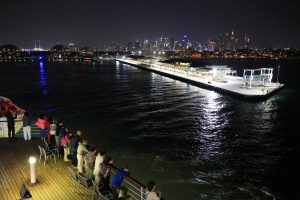 The sun sets quickly and there was a beautiful night view of Melbourne. See you again Melbourne!