[103rd Cruise Report]Maori and Ainu exchange
Jan.26th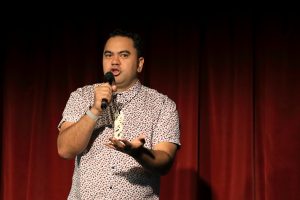 Today we heard from Guest Educator Will Flavell, who in addition to completing a PhD in education, is also a board member of the local Henderson-Massey Council, and is a teacher of Maori language at Rutherford College on the Te Atatu Peninsula in Western Auckland. He gave an talk about the ties between the Japanese Ainu people and New Zealand's indigenous Maori people.
Will began the lecture with a prayer in Maori, going on to tell us that Maori continue to be discriminated against. Those scars still remain, and half of Maori people are unable to speak the Maori language. However things are slowly changing, with Prime Minister Jacinda Ardern for example, although she herself is not Maori, is working devotedly to improve the situation. In her address at the UN she used some Maori language, as well as using traditional Maori ways of greeting (touching noses together). Will told us his dream is that in the future all Maori people will be able to speak the Maori language.
From there the conversation moved to the Ainu in Japan, in particular a project that Will has been working on in recent years, bringing together Maori youth and Ainu people. He told us that the goal of the project is to tell people it's good to be proud of their language and their culture, and that in actually visiting each other, they have put on performances of the traditional Maori dance, the Haka. The Ainu in Japan are also facing similar problems to the Maori, and to that end Will provided advice about language revitalisation at the Ainu-Maori Symposium. Now in Hokkaido in Shiraoi-cho, there is suggestion of building an Ainu museum, so little by little things seem to be improving.
At the end of the lecture, Will took a few questions from the audience where he was asked "what can we do in the schooling system?" Will answered that "losing language is losing culture, and at one point the Maori people were in very grave danger on that point. However in 2019 Maori language education was made a compulsory part of school education, and this has had a massive effect, and the Ainu should also have a similar approach in schools".
Others asked "what can Japanese people do to help the Ainu, and in what way can we spread their language and culture?". Will answered that "first is to listen to and understand the Ainu people. Then even if you aren't of Ainu heritage yourself, to learn more about their language and culture. Of course visiting Hokkaido as well is also a great idea!"
He lastly added that "I think the Maori people will always support the Ainu".