[103rd Cruise Report]Mama Eiki's Recipe for Happiness
Feb.6th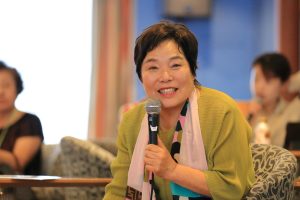 Guest Educator Eiki Kamimura founded language school World English Education Center, with the goal of helping people from both those who wanted to travel, to those wanting to be interpreters, providing people with a fun way of studying according to their goals. In addition to this however, she also loves to cook and has opened her own cooking school and published cookbooks.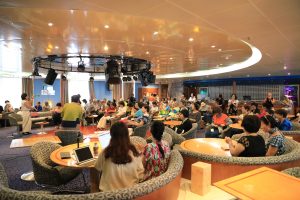 Today was a food-focused event called "Mama Eiki's Recipe for Happiness", where a number of Korean dishes were introduced. The event was surprisingly really popular, with apparently a great love for Korean food onboard, and Eiki pointed out that she was happy there were so many men in attendance at the event, and that many of the ingredients could be bought easily at any supermarket in Japan. With recipes ranging from buchimgae and namul, to kimchi, dak-galbi and bulgogi. Just listening was enough to make anyone hungry!
"Sesame oil is so expensive, salad oil is just fine" Eiki told us with a laugh. With a smile and breezy approach to cooking, many people dutifully took plenty of notes throughout the event.