Blue and white: the most beautiful resort in the Aegean
Apr.20th
Fira – A city of white-washed houses built on ochre-coloured cliffs
After enjoying the beautiful Aegean Sea, we at last arrive on land. From the ship we could look up to see the rising ochre-coloured cliffs and whitewashed houses along the cliff edge. A cable car makes its way up the cliffs to the town of Fira, with its blue roofs and white walls. Taking it all in, with the sea and sky sparkling like jewels and the Aegean glinting in the sunshine, it's hard to not wonder if you've arrived in heaven.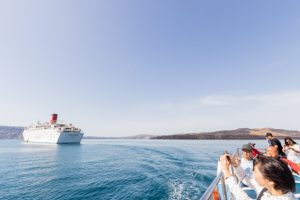 To get ashore, we step off our larger ship into smaller "tender boats", feeling a little bit closer to the sea, taking us to land.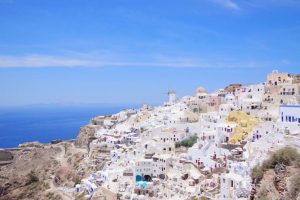 Arriving to the sight of windmills turning in the gentle breeze, is truly unforgettable.
To the birthplace of the mysterious Legend of Atlantis
In the ruins of Akrotiri, a mysterious atmosphere permates through the remains of the once prosperous ancient Greek civilisation, where many frescoes and and pieces of pottery have been discovered. The philosopher Plato wrote about the legend of Atlantis, the ancient city which sunk into the sea overnight, and taking in the sight of the ruins here, it's hard to not wonder whether he may have been right.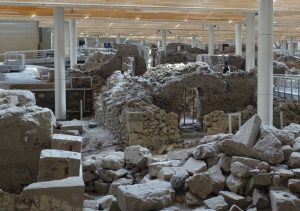 Akrotiri was buried under ash during a volcanic eruption around 1500BC.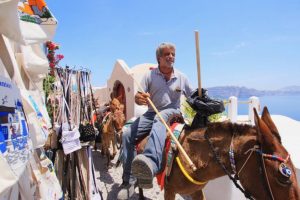 One of the main ways of getting around the island is by donkey, which can often be spotted climbing the hills and narrow streets.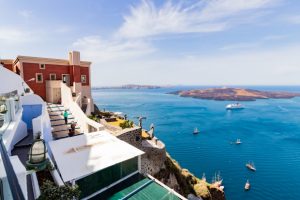 From high up on the island, the large passenger ships floating in the caldera appear as small dots.
To the birthplace of the mysterious Legend of Atlantis
For lunch we stop at a terrace restaurant looking out on the ocean where we have some delicious Greek food. A simple traditional meal of seasonal fresh seafood and vegetables, as well as Greek yoghurt that has been made the same way for more than 2000 years! With a little salty feta cheese and olive oil in the place of salad dressing, it's hard to go past a traditional greek salad. Courtesy of the sunshine and soil, the high quality of grapes that grow on the island mean Santorini is also well-known for its wine production. In the dappled sunlight, surrounded by blue and white with a feast in front of us, its a moment of true bliss. Kicking back and taking in the local surroundings with such ease is something truly unique to travel by ship.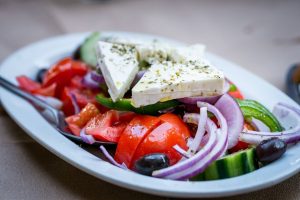 Traditional Greek salad is called Horiatiki, meaning country breeze.
The fairytale backdrop of Oia
One of the features of the small town of Oia, located in the northern part of the island, is the pink buildings and blue roofs. The blue domes and white cityscape create a whimsical, picturesque atmosphere, and the streets are lined with cute souvenirs. And lastly is the famous sunset, where the light turns the white buildings a tinge of orange before slipping into the Aegean.