In the land of fairytales and history – Part Two
Apr.24th
Meet Scandinavian Design in the street
The city of Copenhagen is filled with well known brands showing off examples of world-renowned Scandinavian design, a delicate blend of colours and warmth that evokes living in harmony with nature, a style of design unique to this land. Here it's possible to buy souvenirs directly at a much cheaper price than back home, and just walking around the streets is a marvelous way to spend the day, looking into various stores and soaking up the surrounding design. And when coming to town by ship, you also have the chance to spot the windmills generating power off the coast, one aspect of Denmark's commitment to environmental activity. With so much to see and do, just one visit isn't enough to take in everything that Copenhagen has to offer.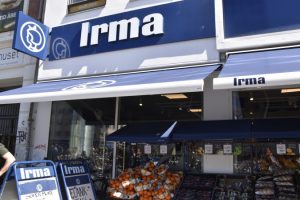 In town you can also spot the famous Danish supermarket "Irma", known for it's popular range of original goods including eco-bags.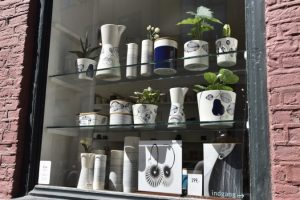 The idea of "Hygge" took root in Denmark, embodying the concept of comfortable living, enabled by the design of our everyday items, right down to our plates and pottery.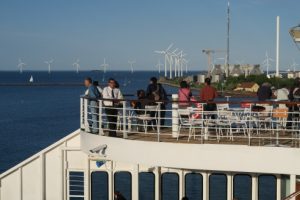 Around half of the wind-powered generators in Denmark are owned by private collectives, and they are a symbol of Denmark's environmentalism.
Study tours onboard Peace Boat
In addition to its histories and traditions, Denmark is also known for its advanced education system, in particular the unique folk education system, which is highly regarded by the Danish people. The Danish schooling system sets the goal of "achieving individual happiness", where the choice of free schooling from kindergarten to university is guaranteed, and allows for a variety of schooling options and styles. Amongst the various options, one educational institution is Folkehøjskole, an adult live-in system. The courses on offer differ at each school, ranging from philosophy and governance, to art and sports, placing emphasis on learning via dialogue with each other, rather than through textbooks. Peace Boat visits these folkehøjskole as part of study tours to learn about the unique curriculum and Danish education system. We've also been joined onboard by Folkehøjskole educator and founder of NGO Crossing Borders, Garbo Diallo, who has spoken in the past about the power of education that fosters peace.
Folkehøjskole
Anyone over the age of 18 is able to enter these institutions, which consist of dormitory-style living, and places emphasis on learning through interpersonal dialogue and firsthand experience. Courses range from 3 months to 1 year, and are free other than dormitory costs.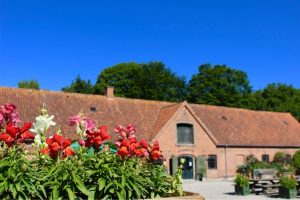 Krogerup Højskole has a lovely open-air atmosphere, situated in the middle of nature.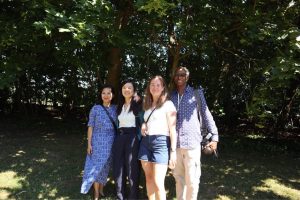 Garbo and 3 graduates spoke about what they learned at the folkehøjskole.
Scandinavian education places great emphasis on the individuality of children, and maybe there are some hints as to how to raise children to be learned from this famously happy country.