An Island Full of Colour and Beauty
2021/07/16
Keelung (Taiwan)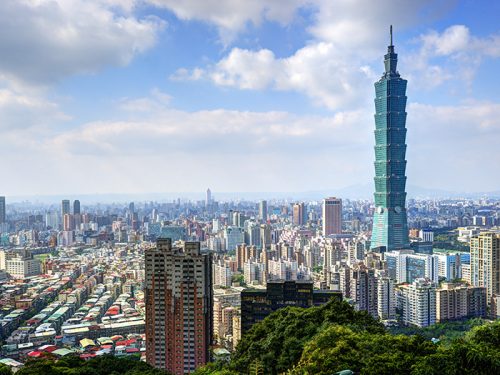 An island blessed by magnificent nature and the warm weather of the East China Sea. When the Portuguese arrived at Taiwan they were mesmerized by its beauty, calling the "Formosa," meaning Beautiful Island. Taiwan is rich in attractions, from breathtaking nature, nostalgic streets, and delicious gourmet street stalls. Often, Taiwan is the first port to be visited on our Peace Boat Voyages. Today we will experience the culture, learn the history, and enjoy the business of this destination.
From the Sea Gateway Keelung to Taipei
Keelung is our port of call, and the gateway to Taipei. It takes about 30 minutes by bus to travel between both cities. Taipei is a fun city to walk around. I personally recommend walking aorund Dihua Street, a wholesale district where you can feel Taiwan's good atmosphere. Ancient buildings from the Qing dynasty remain as stores for dried goods and oriental medicine, while on the other side you can find modern and renovated bars and cafés. You can also see other landmarks such as a the National Palace Museum, which holds treasures from many Chinese emperors, and Taipei 101, a 101-story skyscraper and Taiwan's highest building.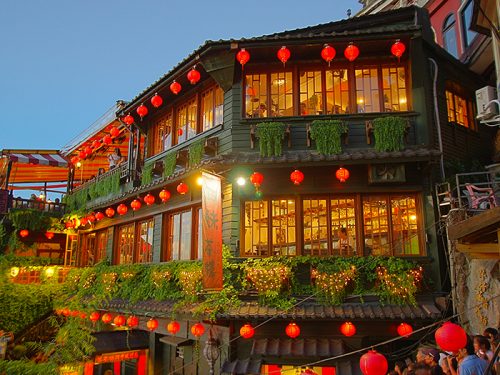 Jioufen: Where a Fantasy Townscape Spreads
Jioufen is located in the mountains, one hour by bus from Taipei. It is one of Taiwan's most famous tourist sports. Originally a prosperous mining town, the town became desolated following the decrease in mining production. However, thanks to the movie "A City of Sadness" which was screened at the Venice International Film Festival, the city and its nostalgic atmosphere came under the spotlight once again. Many stores from the old days line up along the streets, letting you feel as if you are inside a movie set while enjoying some tea and snacks. Especially, the sunsets with the red lanterns that start to appear all around the city are breathtaking.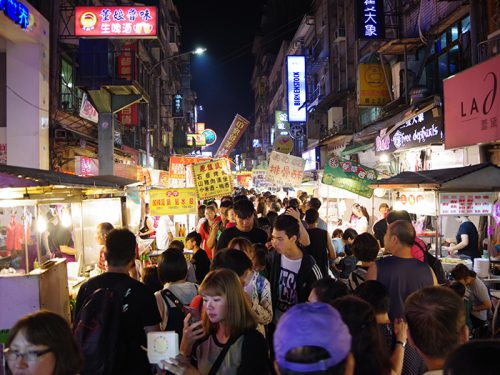 The Lively Taiwanese Night Markets
If you want to enjoy the night in Taiwan, you must visit the gorgeous food stalls at the night markets. The night market at Keelung is known as one of Taiwan's most delicious night markets, spanning about 400 meters in area and lining up about 200 different stalls. Seafood, dumplings, noodles, and fruits are sold at reasonable prices for you to enjoy. You can find anything in these kind of night markets. From clothes and sundries, to souvenirs, to beautiful tea sets and expensive tea leaves, you can find many things that are original to Taiwan. Walking around the night markets is perfect to look for souvenirs in leisure.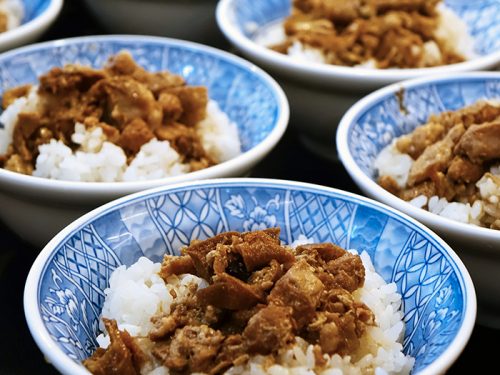 One food you must try when visiting the night markets is the oyster omelette, o-chien. It is an exquisite delicacy that blends the fluffiness of the eggs and the freshness of the oysters, and the one thing you should try when visiting Keelung's night markets. If we were to have something else, it should be a plate of minced pork rice, lo bah png. This is a dish that serves pork belly boiled in Taiwanese soy sauce and spices on top of rice. The result is an addictive flavor! For dessert you can have some Taiwanese sweets such as douhua beancurd or mango shaved ice.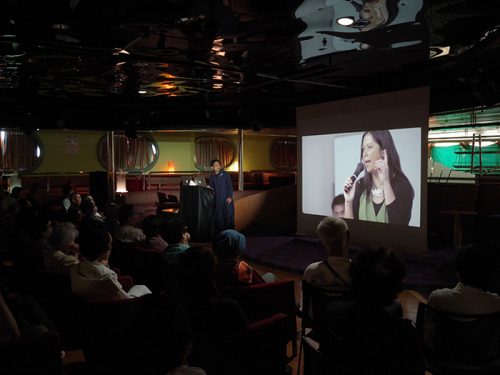 Deepening our Knowledge and Connections Through Travel
Taiwan has a strong image of being part of the Chinese cultural area, however it also has a rich own indigenous culture. The Shung Ye Museum of Formosan Aborigines is located right across the National Palace Museum, and is a place where one can learn about the culture of the Taiwanese indigenous tribes. Traveling on a Peace Boat voyage provides plenty opportunities to get in touch with indigenous cultures through our guest navigators or cultural study programmes. Yasuhiro Iguchi, a photographer who specializes in taking indigenous tribes around the world like the Ainu and Maori, was onboard in 2018. In 2019 he opened a photograph exposition in Taiwan, and has been since working in bridging different cultures.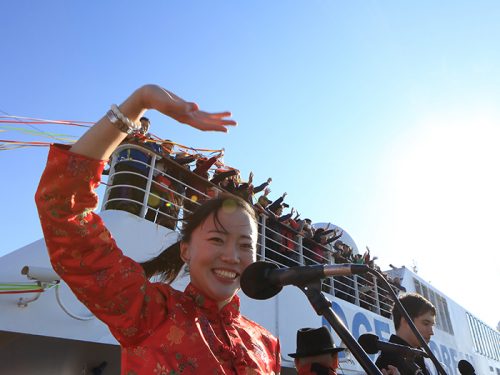 Mr. Iguchi held a photograph exhibition and a talk event series onboard, communicating the riches of Taiwan's indigenous culture as well as its current situation. By learning about our destinations in advance we can increase our curiosity and augment our time on shore, so events that allow us to learn about culture are very popular among the passengers. Taiwan is also an important port of call as many Taiwanese passengers board Peace Boat here. Every year, many passengers from Taiwan, China, Singapore and other East Asian countries sail with Peace Boat. The boat itself is a place where people can interact and share their own cultures and languages. Another charm of a Peace Boat voyage.
PHOTO: PEACEBOAT, Okada Keita, Okuhira Keita, Kataoka Kazushi