The Charming Home of Fujian Overseas Chinese
Xiamen
Xiamen has a long history as a tea-exporting port, and through this developed deep trade relations with many countries, developing as a special economic zone. Starting with the western-style mansions built on the island of Gulangyu during the concession era, its cosmopolitan scenery is full of charm.
The Historic International Settlement Island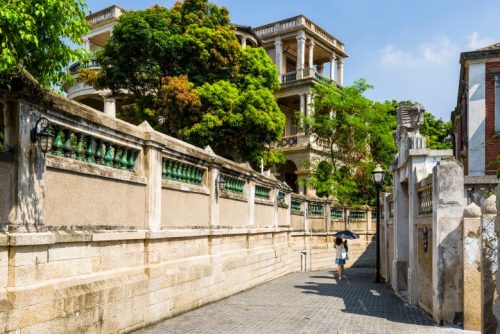 We are heading to Gulangyu, a World Heritage Island that was established as an international settlement. Gulangyu was designated as an international settlement in 1902 following the Treaty of Nanjing. Consulates of many countries including those from Europe and Asia, as well as hospitals and churches, were built during this time. Many overseas Chinese also moved to the island and built luxurious mansions and villas. The Western-style buildings and churches built during this concession period are a unique fusion of western and Asian architecture, creating a special scenery that remains today. Narrow winding alleys, as well as balconies protruding from the manors, add to the characteristic atmosphere. Please enjoy feeling surrounded by history as you walk amongst these buildings.
Strolling around a History-Rich Town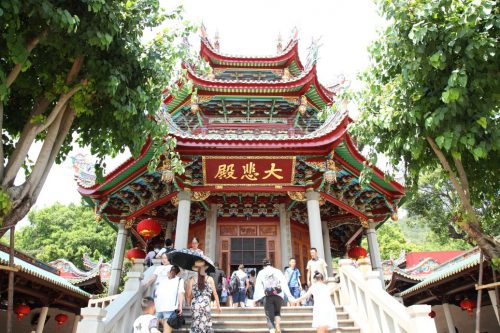 Xiamen is also well-known as the home of the Fujian Overseas Chinese. The South Putuo Temple or Nanputuo, founded during the Tang Dynasty at the foot of Wulao Peaks, is the city's most renowned landmark and a place of worship for many overseas Chinese. The temple's 30,000 square meters of grounds include many magnificent buildings such as the Tianwang Hall (Hall of Heavenly Kings), the Daxiong Hall (Heroic Treasure Hall) and the Dabei Hall (Great Mercy Hall). Moreover, the main street, Zhongshan Road, is a pedestrian paradise full of restaurants and souvenir stores. Any gourmet should try Xiamen's fresh seafood by enjoying some Shacha Noodles, with seafood and a spicy soup, or oyster omelette.
PHOTO: PEACEBOAT, Nakasuji Kota, shutterstock.com