A Scenic World Heritage Port Town
Valparaiso
Valparaiso means "valley of heaven" in Spanish. The slopes fanning out from the harbor are lined with red, light blue, yellow, and other colorful buildings.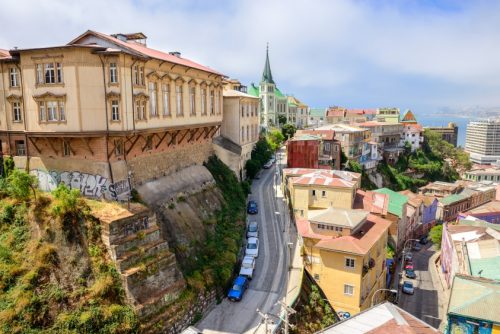 The "Valley of Heaven" with its colorful streets
Valparaiso, a city 120 km west of Santiago, the capital of Chile, has long flourished as a hub of maritime trade. Known as a picturesque port town with architecture influenced by immigrants from around the world, the entire city is registered as a World Cultural Heritage site. The city has also the house where Pablo Neruda, the Chilean poet who won the Nobel Prize for Literature, spent his life, and visitors can experience the world of Latin American literature. This is also one of the most famous grape-growing areas in Chile. Chilean wine has become well-known worldwide due to its reasonable price and high quality. It is perfect for lunch or as a souvenir.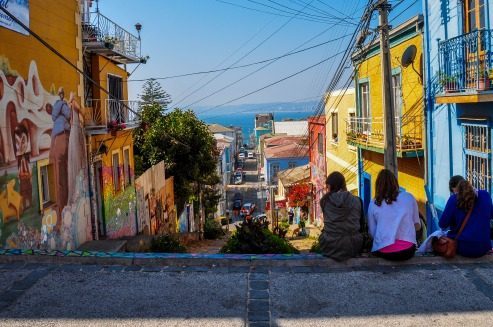 Walking around the World Heritage City with young people who love Japan
After being divided into groups with young people studying Japanese in Chile and young people of Japanese descent, we head to the city of Valparaiso, where we will ride on the Ancesor cable car, which has a history of over 100 years, and be guided to a popular spot called "Blue Sky Museum," which has recently been decorated with various murals and other art works. The tour also includes a guided tour of a popular spot called the "Blue Sky Museum," which has recently been decorated with various murals and other artworks. This tour around Valparaiso allow us to see the city from the perspective of local young people. While walking around the World Heritage city, we enjoy chatting with each other about our cultures, lifestyles, hobbies, trends, and more! Making friends in Chile is an unforgettable experience.
PHOTO:PEACEBOAT, shutterstock.com