On 7 April, Pacific World, our newly chartered vessel, set sail for the first time in Japan!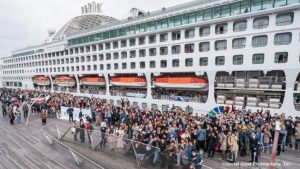 "Off we go!", "Bon Voyage!" The bright and cheerful voices between the ship's open deck and the port echoed through the Osanbashi Passenger Terminal at the Port of Yokohama. It was a time to celebrate the departure of the ship for its long-awaited around-the-world cruise. During the ceremony, Mr. Viktor Alymov, the honorary captain of Peace Boat Cruises from Ukraine, who has been the Captain of Peace Boat Cruises for more than 10 years, sent a message of safety and peace to those who are about to embark on their around-the-world voyage as many people witnessed the departure.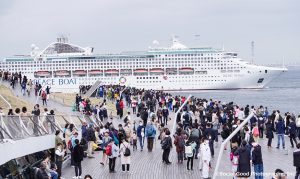 The highlights on this around-the-world cruise are an extremely rare celestial show, the "annular total solar eclipse," which occurs only when the sun and the moon appear to be exactly the same size, and the Arctic Circle, which is located beyond 66°33′ north latitude and is home to beautiful nature. This is a special voyage with 22 ports of call in Asia, Europe and Central America, to encounter the "now" of the Earth.
PHOTO: Social Good Photography, Inc.