Bergen: the lush green gateway to the fjords
Bergen
Being Norway's second-largest city after its capital, Oslo, Bergen flourished as a principal city of the Hanseatic League in the late Middle Ages. Located in one of the world's largest fjord areas, it is the gateway to fjord tourism.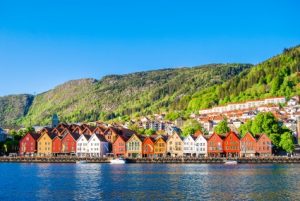 A Vibrant Port Town
The historic city of Bergen has flourished as a trading center of the Hanseatic League since the 13th century. The Bryggen district, registered as a World Heritage site, is a major attraction, as is the Fish Market, which boasts more than 740 years of history. The market is filled with freshly caught seafood, including Norwegian salmon and souvenirs. The market is also a lively place where local people and tourists gather. And there is the home of Grieg, one of Norway's most famous composers. Strolling around this beautiful Scandinavian city with its colorful wooden buildings will make your heart dance.
A Dynamic View
Stretching 204 kilometers (= 127 miles) in length, Sognefjord is Norway's longest fjord. The deep inlets were created when glaciers carved the continent over tens or hundreds of thousands of years, and seawater entered the glacial valleys. The view of the fjord, with its deep green and misty background, is truly fantastic. The colorful houses lined up in between the mountains, and the sight of melting snow cascading down from countless unnamed waterfalls are just like something out of a picture book. The spectacular scenery of the fjords, which can only be enjoyed by ship, is a special highlight of the Nordic route.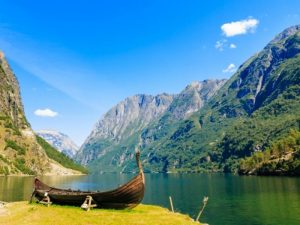 Bergen in Early Summer
The summer season is short but beautiful, and people in Scandinavia eagerly await its arrival. Our round-the-world voyage will visit Bergen, Norway's largest port city, just as summer begins there. The symbol of Bergen is Bryggen, a World Heritage site where colorful wooden warehouses line up, facing the harbor. Bryggen is also close to the Sognefjord, Norway's largest fjord, and serves as a gateway for fjord sightseeing. You will see the beautiful townscape, which preserves the glory of the Hanseatic League. At the same time, the mystic shape of the fjord will invite you to contemplate the time taken for it to be created. You will for sure appreciate the spectacular view in the early summer sunlight.
PHOTO: PEACEBOAT, AdobeStock