To Piraeus, the setting for history and mythology
Piraeus
Piraeus, a thriving port of Athens, is the largest port in Greece and one of the top five international ports in the Mediterranean Sea. A stroll through the Plaka district, which retains the atmosphere of old Athens, will be a pleasant experience.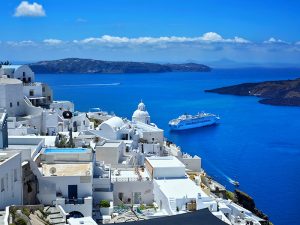 The Great Temple Symbolizing the Civilization
Greece has been known as the birthplace of magnificent art, philosophy, and democracy since the days before christ. In Athens and around, numerous ancient ruins remain. The city is thus often referred to as a history museum. Of all others, the Parthenon is particularly well-known and with significant presence. Located in the center of the Acropolis and symbolizing the glory of ancient Greek civilization, the Parthenon was built to worship Athena, the protectress of Athens. Please enjoy Greece's beautiful World Heritage sites, which fascinate people from all over the world.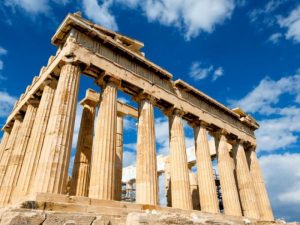 Good Old Traditions of Athens
With its preserved historical townscape, the Plaka district stretches out at the foot of the Acropolis. The old town area has a lively atmosphere, with its narrow, intricate alleys lined with rows of old houses. Greek cuisine, which makes the most of seasonal ingredients, such as fresh seafood from nearby waters and vegetables grown in full sunlight, is one of the pleasures of this city. Yogurt is used in a variety of dishes and has a refreshing taste. Greece is also famous as a wine-producing region because its Mediterranean climate produces high-quality grapes. Please be sure to take some as souvenirs!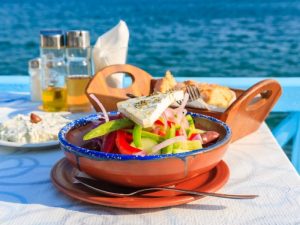 To the Birthplace of Western Civilization
Greece is at the southern tip of the Balkan Peninsula, between two beautiful seas, the Aegean Sea and the Ionian Sea. The land is colored by the ancient Greek civilization, often seen as the origin of Western civilization. Greece is full of attractions that never cease to attract people. There are magnificent ruins that tell the glory of the past; philosophy, history, and mathematics that flourished in the ancient cities; and a variety of myths that stir people's imagination. We will travel to Athens, the center of Greek civilization, and the beautiful islands of the Aegean Sea, where numerous ruins remain.
PHOTO: PEACEBOAT, Kazashito Nakamura, shutterstock