April 12, 2017 saw the start of Peace Boat's 94th Global Voyage for Peace.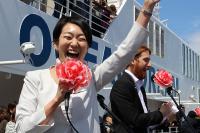 April 12, 2017 saw the start of Peace Boat's 94th Global Voyage for Peace. Departing from the port of Yokohama, the voyage began with an official departure ceremony. This gave an opportunity for participants to say goodbye to loved ones and mark the start of the circumnavigation around the globe. Waving to friends and family on the shore, participants were filled with excitement and expectation of what the voyage might hold. The ceremony saw Tamura Miwako, the Voyage Director for the 94th voyage, give a speech welcoming participants onboard. "The bonds that we forge, the ties that we make with other people, and these friends that we make on our voyage around the world – these ties themselves, I truly believe will create peace", she said.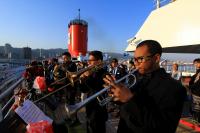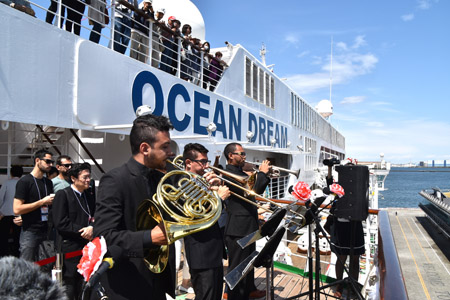 A group of 20 young musicians from the Caracas Municipal Orchestra in Venezuela will also be onboard from Yokohama to Caracas. Most of them are graduates from the Venezuelan social music education programme, The Simon Bolivar National Youth Orchestra, also known as 'El Sistema'. Peace Boat has worked with this organization for more than 8 years, facilitating exchange based on music and donating musical instruments collected by Peace Boat volunteers in Japan to participants in Venezuela.
During the departure ceremony, His Excellency Ishikawa Seiko, the Venezuelan Ambassador to Japan, added that the Venezuelan musicians are spreading the message "that another world is possible, based in co-operation, based on solidarity and based on music, beautiful music". While onboard the musicians will organise music workshops with participants and take part in various activities in ports including performing at a special concert for refugees at Skaramagas Refugee camp in Athens, Greece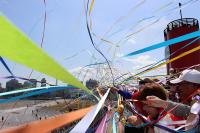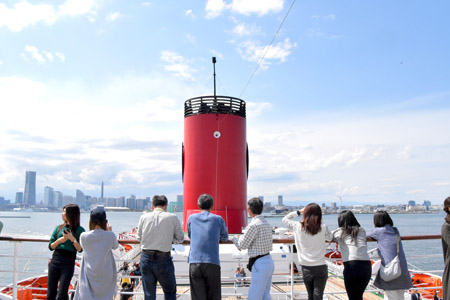 In Kobe, more participants came on board the ship; with more participants joining in Singapore and Greece, there will be approximately 1,100 participants in total. Hyo Inn from Korea is excited about the voyage, saying "I look forward to going to other countries and having new experiences". Staff member Ito Yuki, the Culture School Coordinator for the voyage, joined the speeches with the message that one of the characteristics of this voyage "is the many nationalities and diversity. We are lucky to have passengers from Malaysia, Singapore, Shanghai, Taiwan and Korea". The people-to-people global exchange begins!