Stop at Piraeus (Greece)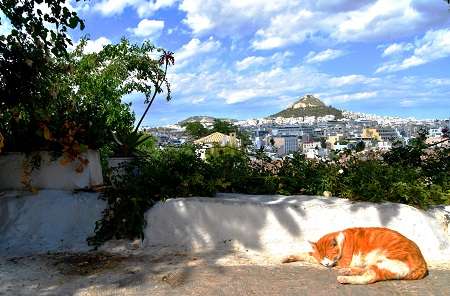 Here we are, Piraeus of Greece!! Piraeus is an outer port of the capital city, Athens. We can easily transfer from the port to Athens by subway or taxi. We head to Athens as soon as we get off the ship.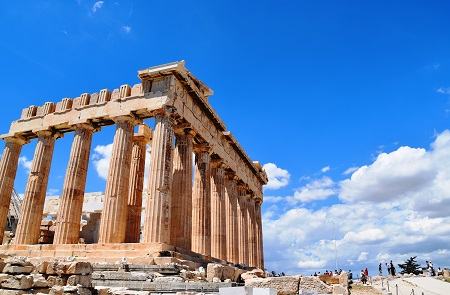 When it comes to Athens, "Parthenon" is the must see place, . The temple ,which has been built about 2500 years ago, has been destroyed in 1687 during a war, and is still under renovation. The building has been completed after 15 years in 432 B.C, which is about 2500 years ago. It really has been watching the extraordinary history of 2500 years….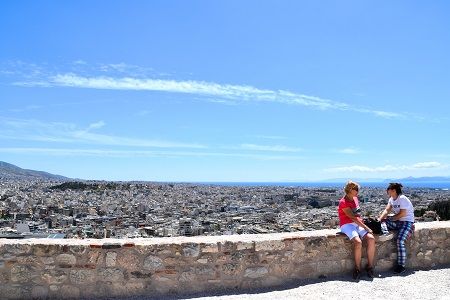 From Parthenon, which is located on a specially higher location in Athens, we can overlook the city. Under the blue sky, the view is fantastic!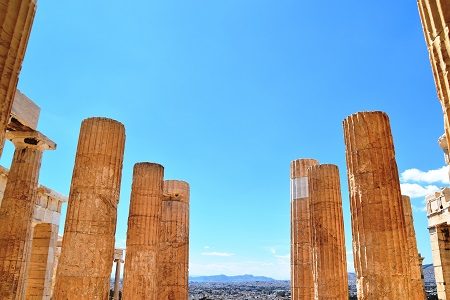 What we can see in between columns is the streets of Athens. It makes us think that the kings and the priests of that age may have been watching the city like this.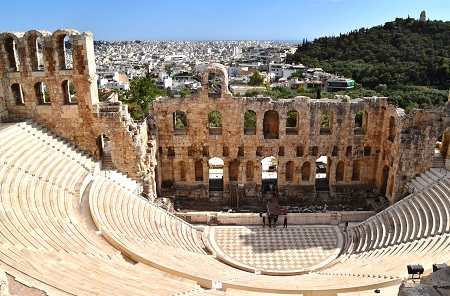 There are many other sights at the ruins of Acropolis. One of them is a music hall called "Odeon of Herodes Atticus", which is still used in present time. Believe it or not, about 6000 people can seat in this music hall, and in summer, theater, concert and opera will be performing, as well as a Japanese ballet company.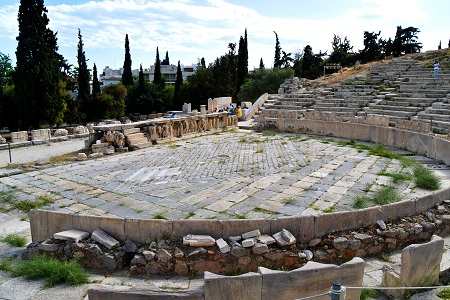 Next to the music hall is the oldest theater in Greece, "Theater of Dionysus". The size of it is tremendous, which has 15000 seats. Although most parts of the seats have been collapsed, some with backrest made of marble still remain, which tells us how important the events were back then.
A statue is sitting as it is guarding the entrance of the theater. There is a flower in front of the statue. Somebody who has come to this place may have left it.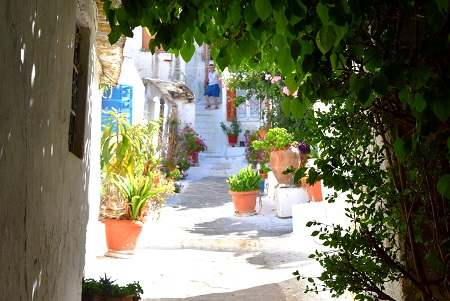 Strolling down a narrow path on the north side of Acropolis from Parthenon is something we highly recommend!! It will be a little detour, but those white stone-built houses with blue colored windows and doors on the sides of the lane are so cute that we feel like we are in a picture book.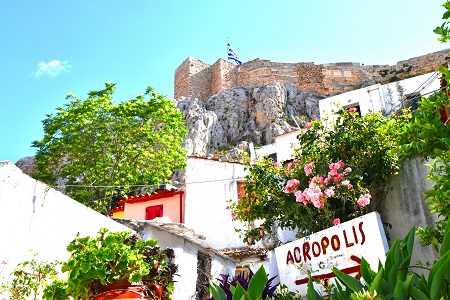 We have heard that this area which spreads below the Parthenon is built in 1800's. The area with cute cats walking around, makes us feel like we are wandering into a world of fantasy.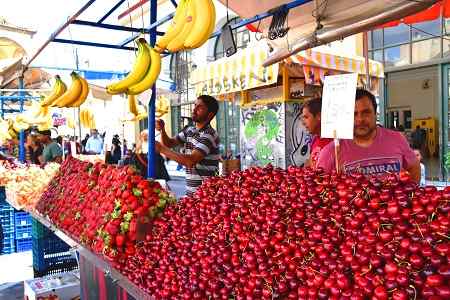 The streets are very colorful. We see many ripe fruits in the market. Among them, the size of the strawberries surprises us!! They are so big, we cannot compare to those in Japan.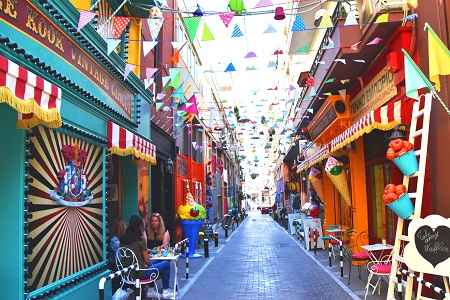 There are things like circus permanently on the streets, and those who bring in customers in costumes are eye-catching. Unlike the circus known in Japan, there are large dolls, such as dragon and crowns are in line. They are fun, colorful, but a little weird, magical and a bit unreal…It is like a scene from a cartoon.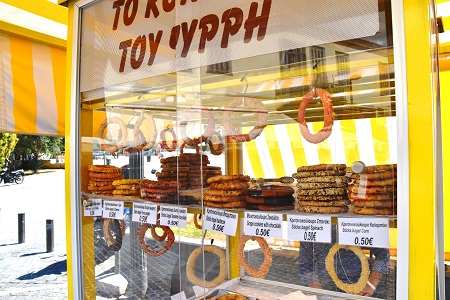 The time passes really fast while we stroll slowly down the street. We started to feel hungry, so we bought "Koulouri" which we see a lot at the stands in Greece. It is a hard doughnut shaped bread, and is like a large pretzel.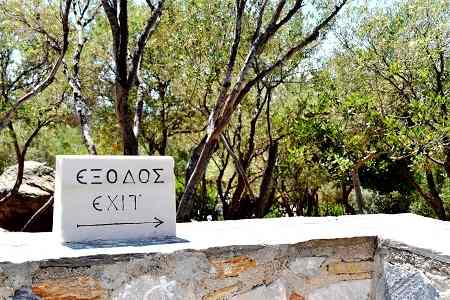 Greece, a place where ancient and present times coexist. Although there are many hills, the scenery from the heights are superb. By spending a fulfilling time in this place, even those difficult Greek letters will give us a nostalgic feeling at the end of the day.
By a painful reluctance, we say goodbye to Greece, and head to the next port of call, Italy.