Stop at Porto (Portugal)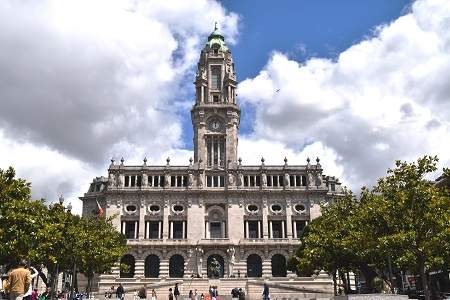 Here we are in Porto, Portugal. This is the second largest city in Portugal after Lisbon.
The old town of Porto, a historic center of a town was designated as a World Heritage Site by UNESCO
in 1996, and addition to that, there are lot of highlights!! We got lucky with great weather so we went for
a walk directly in town.
This is a city hall. The Plaza is in front of the city hall, where people enjoy spending their time on their
own, taking photos and relaxing.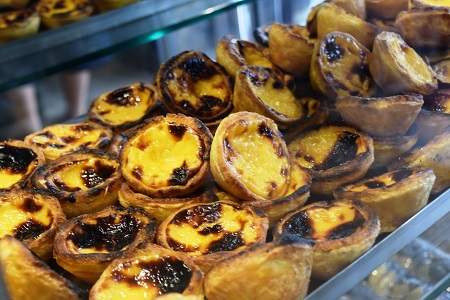 Before exploring the town, we decided to have a quick bite. We bought the most famous Portugal
traditional sweets called "Pastel de Nata". It is like an "egg tart" in Japan. Since it is less sweeter than
what we have at home, we feel like we can eat numbers of them.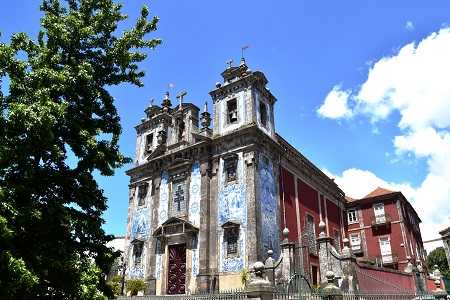 Many buildings in the town are decorated in beautiful traditional tiles which called "azulejo" and are
captivated our eyes.
The azulejo is not only used for a pot stand or nameplate, but for the walls for some houses.
This is the church of Saint Ildefonso and the blue azulejo is used all over the wall.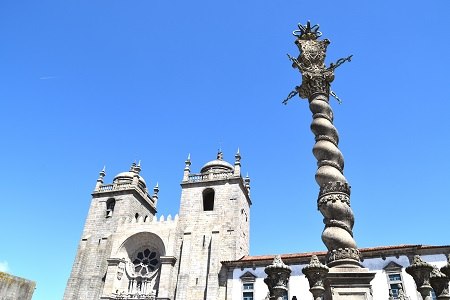 There is a cathedral on the hill, which has been used as a fort. Also you can look over the town fromthe
hill.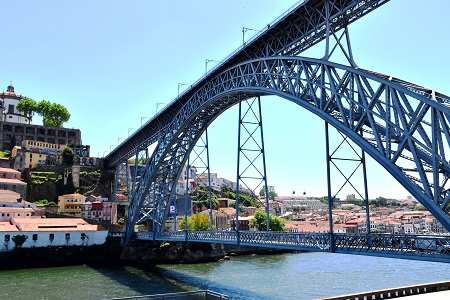 After going through the town, you will see the bridge called "Dom Luis I Bridge" .
This bridge over the Douro river is used for road and railway, and connect the central Porto to Vila Nova
de Gaia.
The contrast between the large bridge and the orange colored roofs makes a quite beautiful scenery.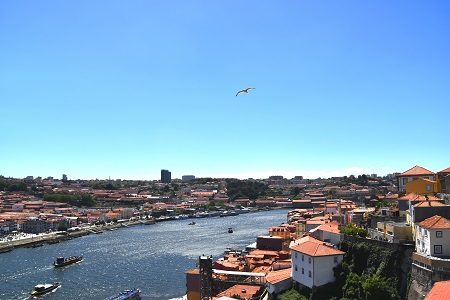 If you go up on the Bridge, you will see a panoramic view of the town. Please look at this beautiful
scenery!!
By looking at the scenery of at 45 meters above the ground, we hear someone says "is it like a world of
Ghibli".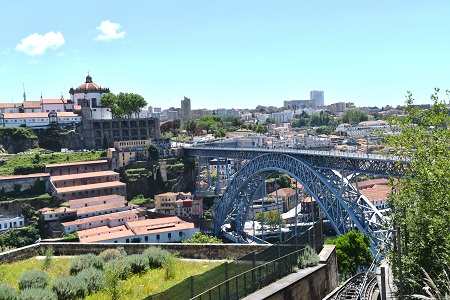 There is a cable car and a rope way around bridge, and if you use it to go up a little, you can overlook the
bridge.
Any angle of a scenery where the bridge connecting the town is really beautiful like a picture. The
combination of a man there playing a guitar and the scenery makes the time passes slowly.
Sometimes the train with nostalgic design runs through the middle line of railway.
Back to the town again, and head to the "libraria lello & irmao" which refers as the most beautiful book
shop in the world. It is also known as a film shooting location of "Harry Potter".
The book shop is not so large but it has a large selection of items, from general books to specialized
books. Since it is using this old buildings, it is showing us the fabulous interiors. The enterance fee
required four Euros, but if you buy a book, they will return the entrance fee to you.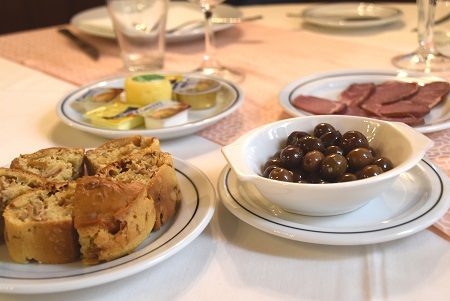 You can walk around town of Porto, but the feature of the town is its many hills .
It is nice to take a break at a Cafe, but you can also enjoy the Portugal meal. Thanks to their products of
the sea and riches of the soil, Portugal has a lot of delicious foods.
The restaurant we went in offered olive, uncured ham, assorted cheeses and bread with Prosciutto.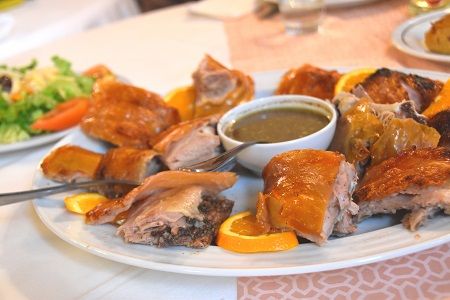 This is a local cuisine called "leitao assado" in the middle region of Portugal. It is a roasted young pig ,
and we eat the crunchy skin with a sprinkle of salt. It is usually served with oranges and homemade
potato chips.
The Portugal cooking is simple and bring the best out of the ingredients, which us, the Japanese people
will like.
We also recommend you to have a Portugal wine or Panaché (shandy)with the meal!!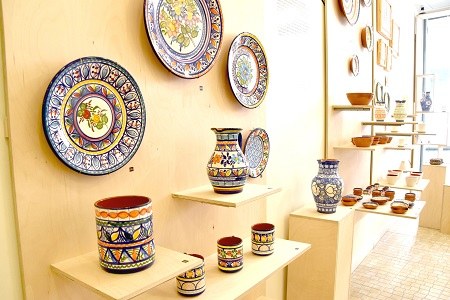 The Portugal also has a good selection of cute souvenirs. The prices are reasonable, and you may be
attracted by many of them.
This Pottery of Alentejo has various types of patterns and is really popular!!
Every Portugal district has its own characteristics pattern for the Pottery.
This is a tableware from a popular tableware company, Bordallo Pinheiro. Although it is famous for the
design of cabbage, it also has lemon and watermelon designs for coffee cups, as well as corn and avocado
designs for plates. It is fun to just watching those.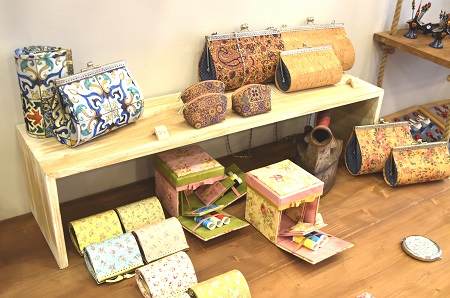 Portugal is also famous for top quality cork products. Strong and rustic design for bags, accessories, hats,
and belts are popular. The fine quality products is just suitable for your souvenirs.
You must not forget about a Portugal wine. Specially in Porto, the sweet Port Wine which has a brandy
in it is famous. At the riverside of Douro river, there are more than 30 wineries. Some give a free tour,
so if you have time, that is a great place to enjoy the wine.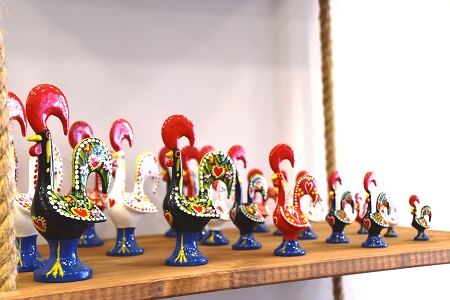 The symbol of happiness, "galo" is also a standard souvenir. It is a mascot from a rooster's folk tale in
Portugal', and has variety of different products like ornaments, key rings and accessories.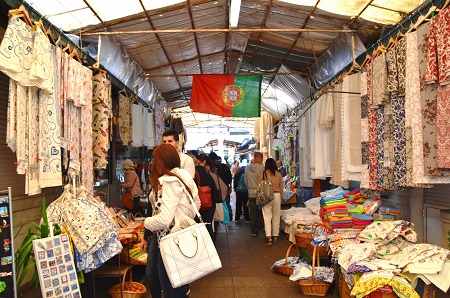 It is also fun to walk around the Mercado do Bolhão (market)!! The place is like a local kitchen, so you
may want to go there in the early morning. It sells perishable foods, bread, flower, everyday goods, as
well as sweets. You can also find some reasonable restaurants there.
Many said "I probably like Porto the most!!". Those cute buildings with tiles and delicious foods, as well
as kind people in town make us think so. It is definitely a place we wish to visit again.