Stop at Le Havre (France)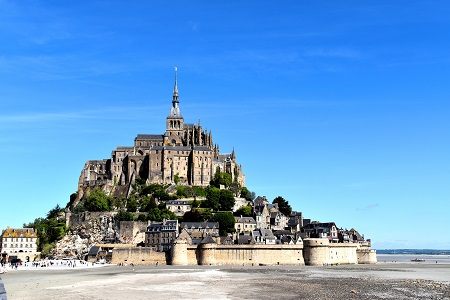 May 21, 2017
We have arrived at Le Havre, France, the "home of impressionism".
Though Normandie is known for its high annual rainfall, we have a clear and sunny day today!!
The guide says, "You are so lucky!!".
Most of the passengers are heading to France's most popular World Heritage Site, Mont-Saint-Michel.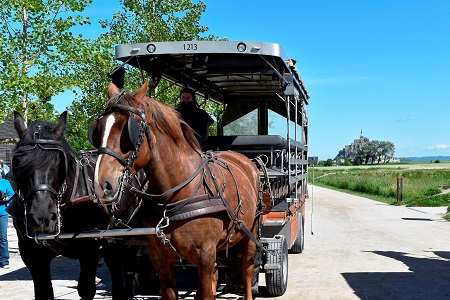 After passing through pasture, Mont-Saint-Michel comes into view!! Mont-Saint-Michel, often described
as "The Wonder of the West", is an abbey built on an island. Since the causeway disappeared and the
island became totally isolated, it was once used as a prison. You can easily spot Mont-Saint-Michael as
there are no other tall buildings around.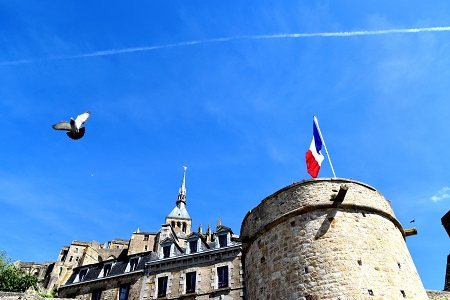 Looking up at it from a closer distance, you can see the high tower surrounded by castle walls.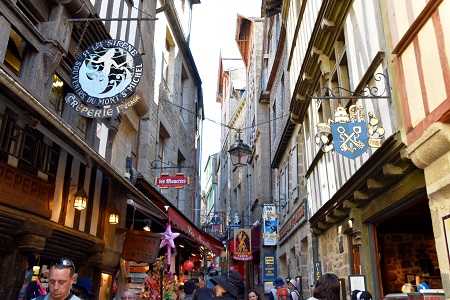 Entering through the gate to the stone-paved main street, hotels, restaurants and souvenir shops stand on
both sides. You will be attracted by those cozy little shops with pretty signboards!!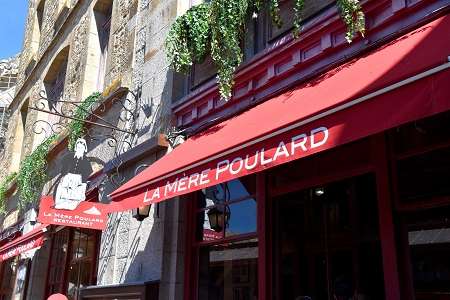 We find the famous restaurant "LA-MERE-POULARD" known for its omelets.
The fluffy omelet made with many eggs was born to satisfy the pilgrims' stomach.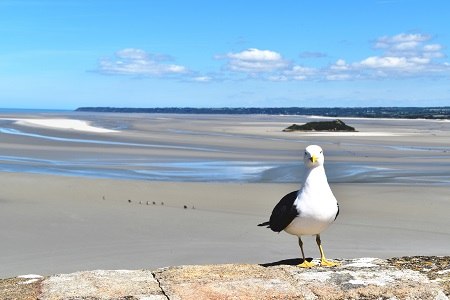 If you go up the stone-paved stairs to the west side of the terrace, the horizon comes into view. The long
sandy beach beneath will disappear when the tide comes back, but we can see some people taking a walk
and others enjoying horse riding during low tides.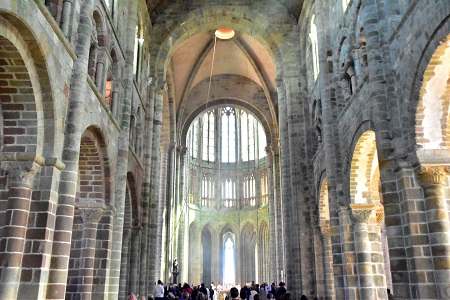 We find many people attending the mas at the abbey probably because it is Sunday.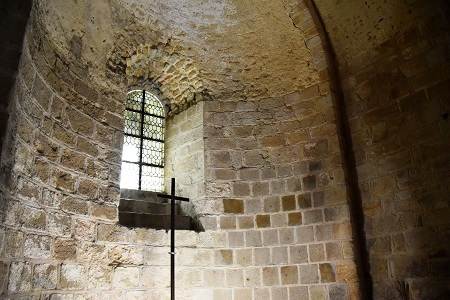 The abbey has many rooms, and there is a lot to see. This is Chapelle Sant Martin, and it has not changed
at all since it was completed in the 11th century.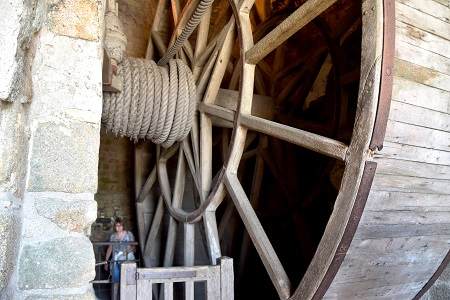 This large wheel was used to transport food when Mont-Saint-Michel was used as a prison. We were
overwhelmed by its size and power.
This great wheel made Mont-Saint-Michael a perfect prison where nobody needed any access to outside
to get food.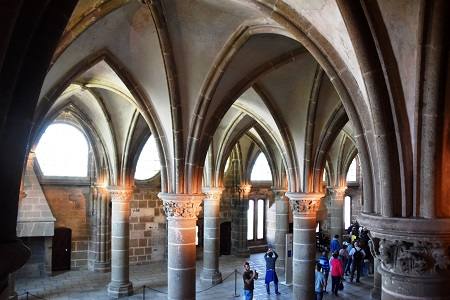 Other highlights are the headless statute, beautiful stained glass, and more.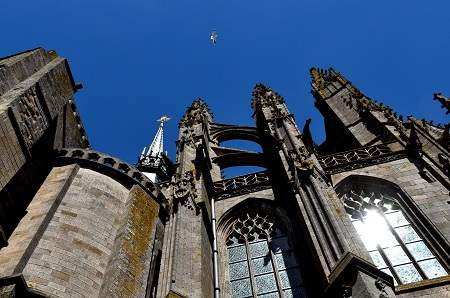 One hour will be enough to look inside the abbey, so it might be a good idea to enjoy a cup of tea looking
at the horizon!! If you still have some energy left, we recommend you a visit to the museums.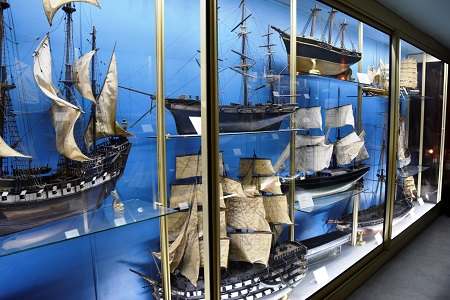 At the Marine and Ecology Museum where you can find a ship model from the Age of Exploration, you
can watch a video that shows the flow of the tides around Mont-Saint-Michael.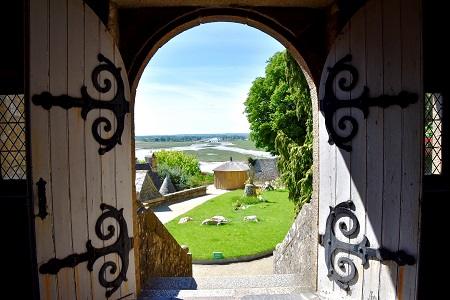 At Tiphaine's House, you can get a glimpse of the life of an astrologer and wife of then military officer of
the French Royal family. You might also want to visit the Museum of History for more details on the
history of Mont-Saint-Michael, or Archeoscope that exhibits the history of Mont-Saint-Michel with a
movie.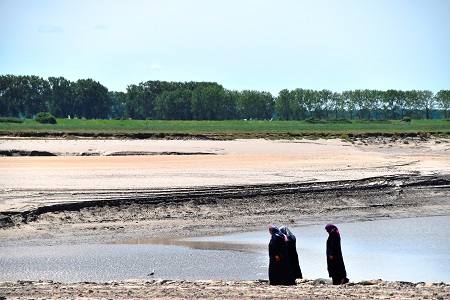 If you have spare time it might be fun to walk around the abbey. Walking on the muddy ground after high
tide and imagining the old times of the pilgrims makes us feel blessed.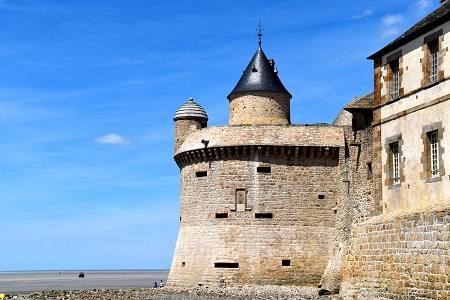 There is a spot where we can only see from the outside. Gabriel tower on the left side of the entrance gate
was built in the 16th century as a fortification, and it is used as a lighthouse today.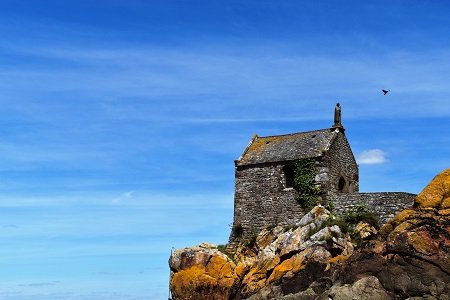 Through a large crowd of seagulls stands La Chapelle-Saint-Aubert which was built to worship Saint
Aubert who built the abbey. You can enjoy looking up the chapel from the outside, or you can go inside
as well.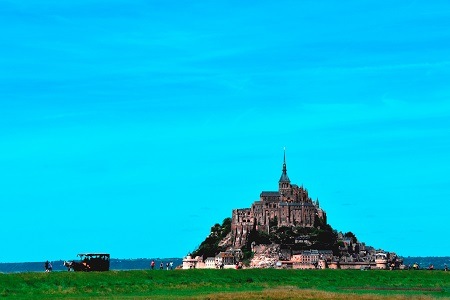 Mont-Saint-Michel has a history of over 1,200 years. It was closed during the French Revolution as a
result of destruction and plunder. In 1966, however, monks were back to the abbey and it has become a
place people gather from all over the world.
The abbey towering over an island, isolated and surrounded by nature all around, is a beautiful and holy
place that has been fascinating many people. Mont-Saint-Michael is definitely a place to visit when you
come to France.