[99th Cruise Report]Arrival in Piraeus (Greece)
Sept.28th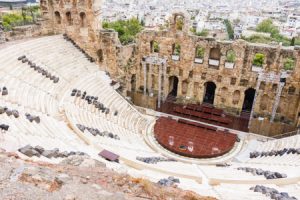 The Ocean Dream has arrived in Greece, Piraeus! Piraeus, known for being a port town, boasts the largest port in Greece. We immediately got on the metro and headed to Athens to see the Acropolis. On our way up the cobble stone streets we saw the Odeon of Herodes Atticus. This theater structure built in 161AD still hosts theater performances, concerts, operas, and traditional plays during the summer.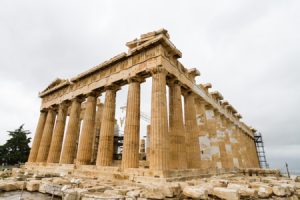 Further up the road on the Acropolis was the impressive Parthenon. The Parthenon stands dignified and tall at the top of the hill, inciting a sense of awe from onlookers. It was built over a span of 15 years approximately 2500 years ago, but was destroyed in 1687 by the Venetian army. Currently, building restoration is underway.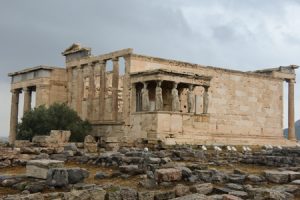 Standing opposing the Parthenon, was the Erechtheion. What stands out is the Porch of the Caryatids (Maidens), which has six beautiful female figures as supporting columns. The columns support a section of the roof, but are all replicas. Five of the original caryatids are on display at the Acropolis Museum.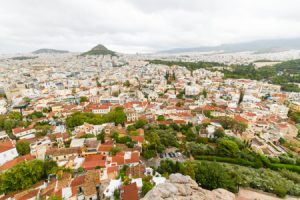 The word Acropolis means, "the city on a high hill." From here, you can see a panoramic view of the city of Athens littered with beautiful orange rooftops.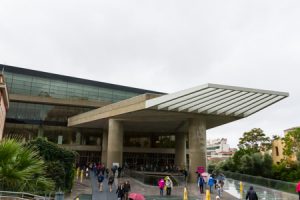 After lunch, we headed to the Acropolis Museum. This museum, which opened to the public in 2009, has a wealth of relief sculptures, carved statues and more on display.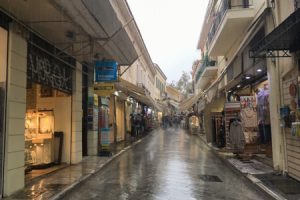 Finally we walked around the town in the Plaka neighborhood. Unfortunately we were met with rain, but it was still bustling with many tourists.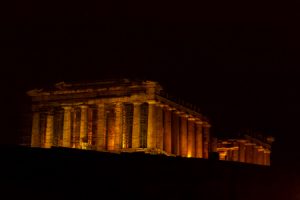 As the sun set, the Parthenon was lit up. The Parthenon has excellent views at day and at night. Ending the day with a beautiful view, we returned back to our home, the Ocean Dream. Disembarking from Piraeus, the Ocean Dream is next on its way to Corfu Island.