[101st Cruise Report]Japanese Culture Experience Day
May. 3rd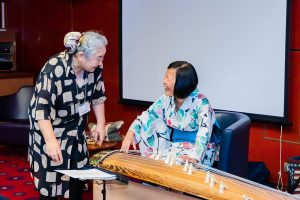 Today we held a "Japanese Culture Experience Day", where participants were able to experience many different events about Japanese culture. The spaces onboard were embelished with Japanese decorations, and many participants were able to enjoy the wearing a Kimono or a Yukata. Some participants became instructors themselves, holding classes about caligraphy, traditional tea ceremonies, Koto (traditional Japanese instrument), and other traditional Japanese toys. Many non-Japanese participants were very excited to experience for the first time many of these Japanese traditions, they took many pictures to commemorate the ocassion.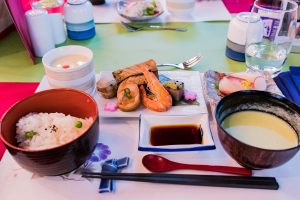 Tonight's dinner was a special course meal known as Japanese Kaiseki. This course meal is enjoyed the most when eating it while wearing a Kimono or Yukata. Many passengers expressed their satisfaction and delight at the way the Japanese Amberjack was cooked. Additionally, the onboard bar prepared n special Japanese Sake selection, allowing participants to deepen their cultural experience through their palates.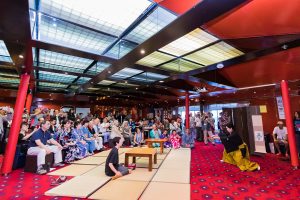 At night, a special Japanese arts stage was set up which made the environment very relaxing. Participants were able to see a variety of performances including a Noh play, Shakuhachi (traditional flute), Shamisen (three stringed instrument), and Koto and some traditional Japanese dances. It was without a doubt a day overflowing with Japanese cultural activities for everyone to enjoy.