[101st Cruise Report]Piraeus Day 1 (Greece)
May.20th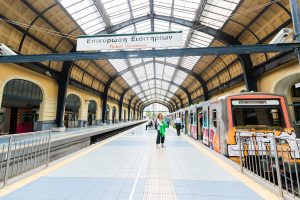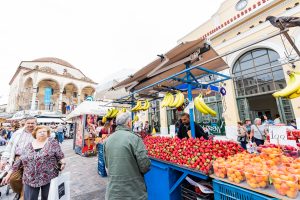 After Santorini, the Ocean Dream made its way to Greece's largest port, Piraeus. Piraeus has flourished as the port of Athens, and as an industrial and commercial port there is a constant flow of ships in and out. Upon arrival, we jumped on the subway heading towards the Greek capital, Athens. Following signs written in Greek was tricky and a touch nerve-wracking, but therein lies the true charm of traveling. Whilst a little different from the trains in Japan, with natural light filtering in it was a beautiful start to the day.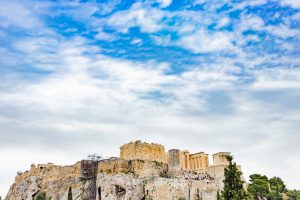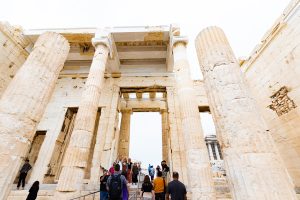 The name "Acropolis" means "city on a tall hill", and it's an appropriate name for the buildings and temples sitting on top of the cliff. Following the cobbled streets up the hill leads to the Parthenon as it gazes out across the city of Athens.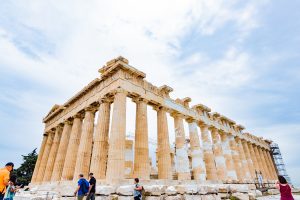 Passing through the gates, we stood before the mighty Parthenon. It's an amazing experience to finally see with your own eyes a piece of history so often shown in history textbooks. Some parts are crumbling and some are being restored, but there's no mistaking where you are. Surrounded by all the ruins and ancient buildings it feels a little like having gone back in time.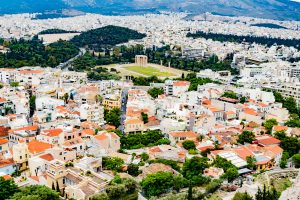 From the Acropolis, you can clearly see the Plaka district of Athens with its distinctive orange roofs. Walking around Athens you can see many ruins, but looking down at the city from on high shows how they are spread out throughout the city, one of the beautiful parts of life in Athens.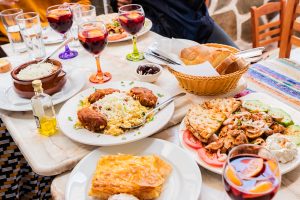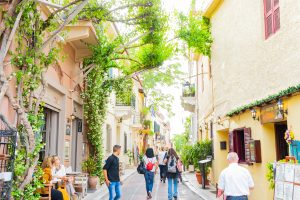 After a short walk, it's time for lunch in the Plaka district! Today is cheese pie, soutzoukakia (meatballs with tomato sauce), gyros and moussaka. Greek food is just too good!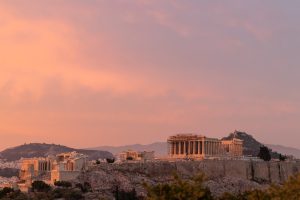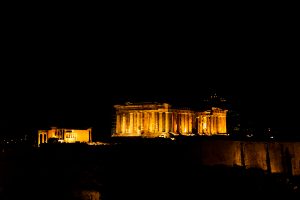 As the sun sets, the Parthenon is lit up, with its massive silhouette shining in the darkness. Day and night both have their own unique beauty, and with that we headed back to our floating home, the Ocean Dream.