[101st Cruise Report]Introducing the Mobile Planetarium!!
June.12th
Introducing the Mobile Planetarium!!
Mr. Ozeki Takaaki (Representative of Kansai Mobile Planetarium)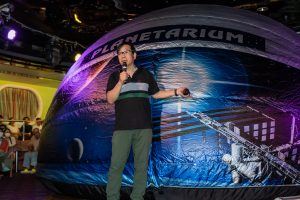 The first thing that caught everyone's eyes as they entered the venue was a large dome 5m in diameter. This dome is a "Mobile Planetarium", a way for participants to enjoy a planetarium onboard the ship! Guest Educator Ozeki Takaaki, who is involved in planetariums and large-scale astronomical telescopes, created this opportunity for onboard participants. These mobile planetariums have made various appearances within Japan, but it was the first time for one to be on display overseas. This rare sight became the center of attention! Today the participants formed a long line to get a preview glimpse of the inside of the planetarium. We look forward to enjoying stargazing inside the planetarium on our ship, a unique experience that can only be enjoyed on Peace Boat.