[101st Cruise Report]Call to Montego Bay (Jamaica)
June.13th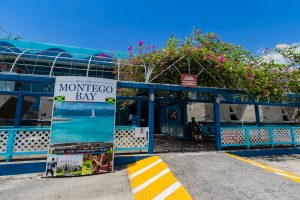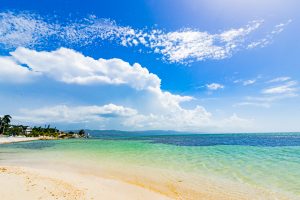 The Ocean Dream called at the port of Montego Bay in Jamaica. After disembarking, we felt the strong sun and humid air all around us. The weather was perfect; above us only blue sky and white clouds. We took a taxi from the terminal to a resort area called "Bottom Road".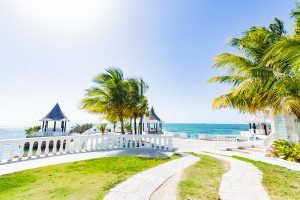 The resorts had everything we could hope for; beautiful beaches, changing rooms, restaurants, and bars. Many people spent the entire day enjoying the white sandy beaches and the Caribbean blue skies, and had red sunburnt skin to show for it.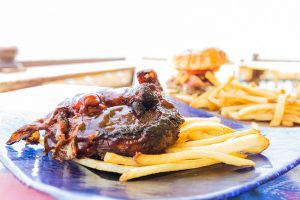 For lunch we enjoyed the traditional Jamaican cuisine of Jerk Chicken, made by marinating chicken in Jerk Sauce and grilling it on a charcoal grill. One bite into the chicken, and we could taste the spicy sauce and smell the fragrant charcoal.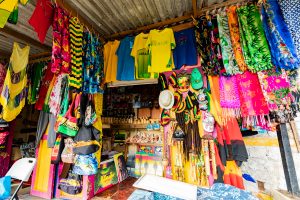 We arrived at the "Old Fort Craft Market" after walking about 15 minutes from the resort area. There were over 40 souvenir shops made from wood and zinc, decorated with the Rastafarian colors of red, green and yellow. The shopkeepers were very friendly and full of energy!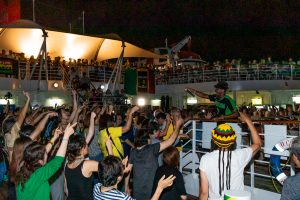 At night, the outer deck of our ship turned in the stage for a live performance! Many participants of various ages came together to move to the rythym of Reggae. One participants said "it was the funnest night of this voyage so far". We were able to enjoy another aspect of Jamaica through the power of music.