[102nd Cruise Report]Cristobal (Panama) Port of Call – Cultural exchange with the indigenous tribe 'Kuna' –
Sept.30th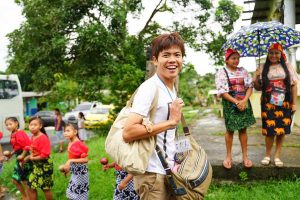 Through the Panama Canal, the Ocean Dream has arrived at Cristobal, Panama. Today we participated in cultural exchange with the indigenous people of Panama, the Kuna tribe.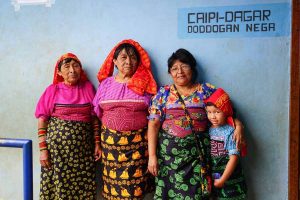 Currently there are seven tribes in Panama. Each tribe have their own philosophy, history and myth, but it is said that they all started from similiar vision and ideology. Kuna tribe is also one of the seven tribe, and they are known to work together within the community, friendly and are pacifist.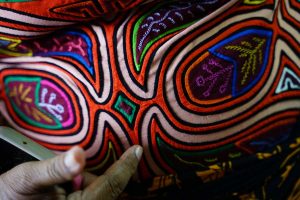 Kuna tribe has long kept their traditional technique called the Mola. Mola is using in their traditional costume and is a beautiful textile which is made by layers of fabric. This fabric is known to the world for its beauty. Molas which the women of Kuna tribe wear is designed from scratch and the patterns is also said to have different meanings.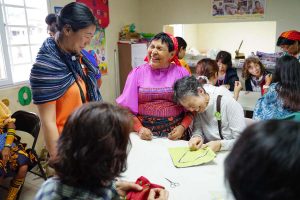 This tour allows us to learn this technique through a workshop, and in fact this is a very rare opportunity to learn this. Normally the people of Kuna doesn't allow other people to learn this traditional technique. Because Peace Boat has been keeping the trust through a long time relationship and support, this program became possible.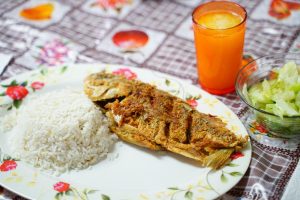 We had a traditional meal for lunch which is eaten by the people in Kuna. Simply flavored deep fried fish, rice with a hint of coconut and pineapple juice.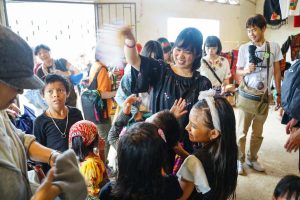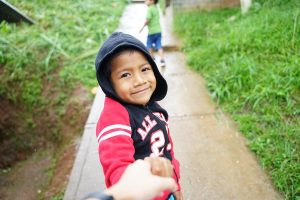 After a light shower, the participants walked along the village with the children. The street in the photo had been created from the support of the Peace Boat.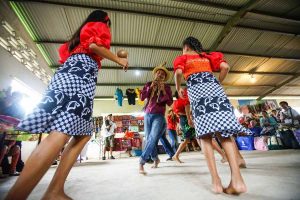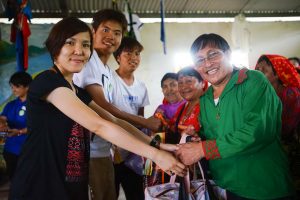 In the afternoon, a traditional dance by the Kuna tribe had been performed. The participants also handed the aid support which was collected by Peace Boat.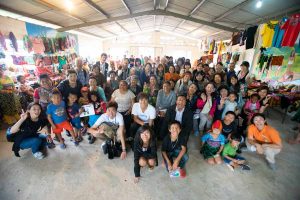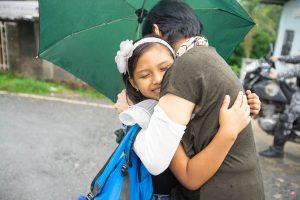 Time really flies when everyone is having a great time. Participants were able to interact and build friendships with the Kuna tribe who are generous and peaceful. Not only learning the long tradition of Mola, but keeping this cultural and people to people exchange is one of the important role that Peace Boat tour bears.