Enjoy every day – Making the most of the onboard Culture School (Part One)
Apr.14th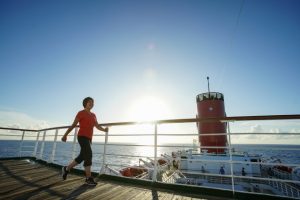 With the clear ocean air, salty breeze, and glittering night skies, a voyage is filled with enjoyable moments like sitting on deck chairs with your new travel companions, gazing out onto the wide expanse of sea. Far from the madding crowd with all this free space, one very popular way to spend time onboard is in one of the free onboard "Culture School" classes. Each program has its own dedicated teacher, and classes take place everyday onboard, set up so anyone even beginners can take part. These classes are so popular that some even say that life onboard is just as enjoyable as the trip around the world itself!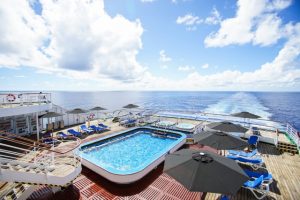 From "life on a ship" to "everyday life", enjoying a bit of exercise with your new friends can become your new morning routine.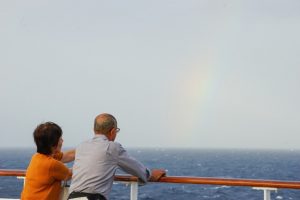 Traveling by ship is full of moments that enrich your life.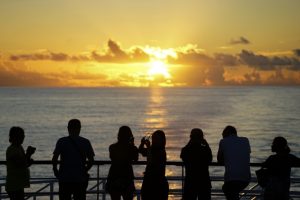 One other special feature is the "magic hour", just around dusk, where you can see the deck lined with people soaking up the ambience of days end.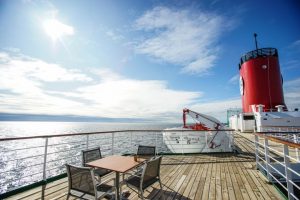 The shining sun rises over the glittering ocean stage, marking the start of a new day.
As the ship navigates across the ocean you can feel the passing of time and the flow of the ocean currents. In this environment you can set a great sense of rhythm to your everyday life onboard, so much so that some even say cruising is beneficial to your health! And with the start of each day, some of the culture school classes begin too. With measured movements and breathing techniques, there's yoga and taichi, then Nordic walking which uses specialised walking poles to straighten and strengthen your back, all of this set to a backdrop of a beautiful 360 degree view of the endless ocean all around, located but a few minutes from your own cabin. It's a great stress free environment, and each class has it's own specialised teacher.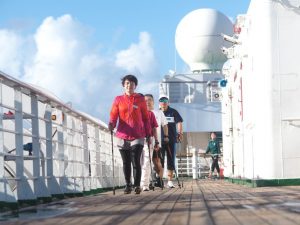 It's not hard to make a habit out of getting a bit of exercise in whilst you look out upon the blue ocean and sky.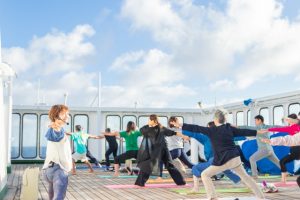 Culture school classes are very easy to take part in, and are popular with all kinds of people onboard.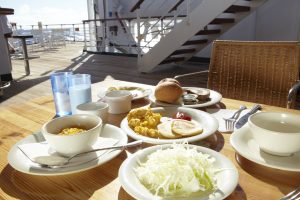 After some morning exercise, onto a healthy breakfast, kicking off each day with a refreshing start.