A journey to meet the people who weave rainbows -Puerto Quetzal (Guatemala) Part 1-
2020/8/19
Guatemala, a country in northern Central America, is known as the birthplace of the Mayan civilization. It boasts fascinating tourist destinations such as Antigua, a beautiful city that retains its colonial style with deep nature and colorful handicrafts everywhere, and Tikal, the largest temple city of the Mayan civilization, built in the depths of a rainforest. However, like other Latin American countries, it was under Spanish rule after Europeans arrived on the continent, and suffered a long and fierce civil war after gaining its independence. An eternal ancient civilization, abundant nature, and people who have survived many histories and live in the present -a journey to discover the beautiful Guatemala.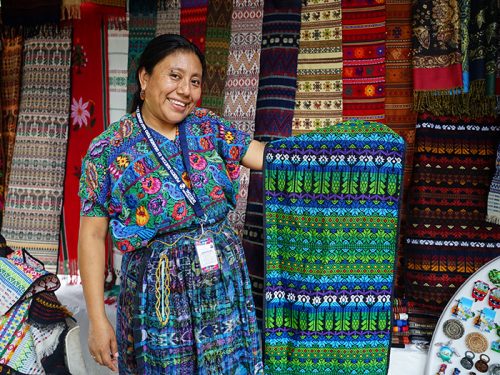 The many people that live in Guatemala
Guatemala, which prospered as one of the centers of the Mayan civilization, is home to many indigenous peoples with Mayan roots. However, it is not accurate to say that there is a single ethnic group called "Mayan." Rather, "Mayan" is a collective term for many different groups that share part of their culture and language. Each of these groups retains their own traditions, culture and historical identity. Especially in the highlands of western Guatemala, there is a large traditional Mayan community, where many variations of Mayan language are spoken on a daily basis, and many cultural aspects that have continued since ancient times still remain.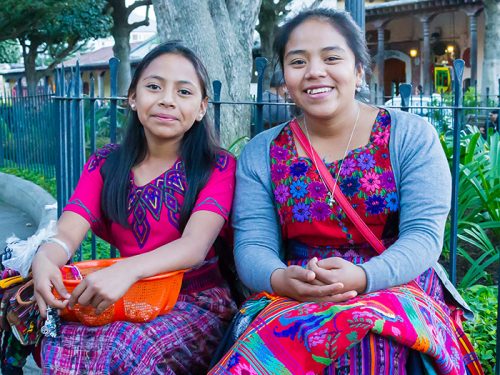 As you walk around the city, you'll notice people wearing traditional weavings and beautifully patterned fabrics called the "Guatemalan Rainbow". On the other hand, this land where indigenous Mayan people make up around 40% of the population, is sometimes said to have the "worst" situation of Latin American countries, due to the repeated exposure of indigenous people to severe oppression, forced labor, and massacres. It is said that as many as 200,000 people were killed during the Guatemalan Civil War, which lasted more than 30 years since the 1960s. Even now, after overcoming the civil war, many social problems remain, such as the gap between rich and poor, racism, and environmental contamination. Peace Boat offers a variety of exchange and study tours, including those to learn about Guatemala's history and peace building and reconciliation efforts.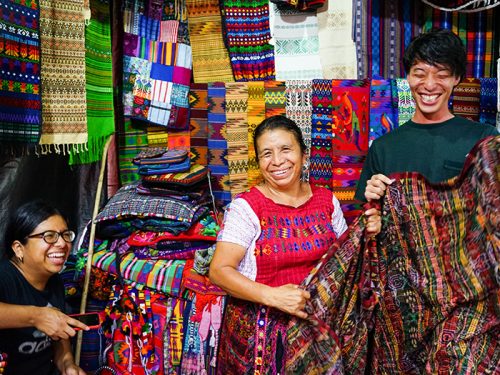 So many colorful souvenirs
Guatemalan souvenirs tend to include the colorful Guatemalan Rainbow. You can find many accessories, colorful folk costumes and hand-woven fabrics. Many souvenir shops are lined up near the harbor, with very charming product line-ups. One of the most famous items is the colorful folk costume "Huipil", which has different weaves and patterns in each village. After seeing the beautiful woven fabric and its many expressions, your wallet may start to lose weight in a flash. Guatemala is also famous for producing coffee, so be sure to get some authentic, high-quality coffee beans with a beautiful aroma as a souvenir.