A journey to meet the people who weave rainbows -Puerto Quetzal (Guatemala) Part 2-
2020/8/19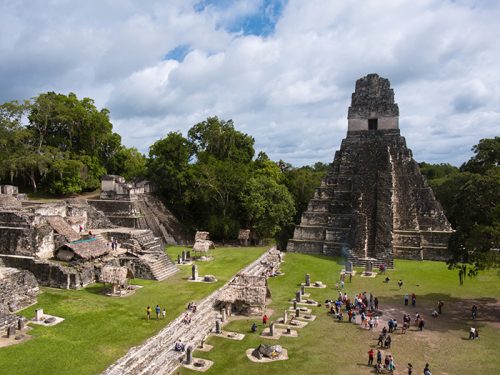 Visit the mysterious Mayan ruins
The Mayan civilization is also known for discovering accurate calendars, highly developed astronomy, and the concept of zero. Tikal, the ruins of a huge city of the Mayan civilization, rises in the vast forests extending from northern Guatemala to Mexico and Belize. Here, you can experience the activities and high technology of the ancient Mayan people. Approximately 3,000 buildings, including steep pyramids and 65 metre high temples, are scattered around, and their mysterious appearance is conveyed to the present day. The biggest highlight is the Panzer IV, the tallest pyramid in the Tikal ruins. Climb to the top and you'll have a panoramic view of the huge structures, towering over the canopy of the deep forest.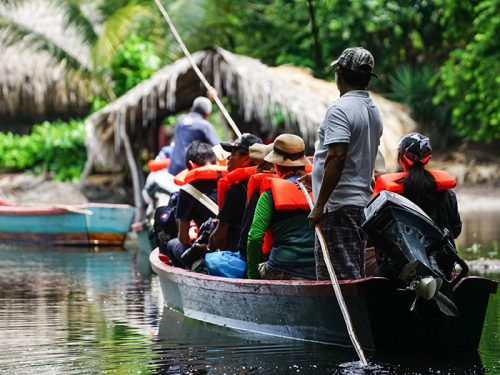 Connecting with Guatemala's Civil Society through Community Tourism
In recent years, a form of tourism called "community tourism" has been under the spotlight in Guatemala. These are tours led and organised by the local community, where you can enjoy the unique charms of the area, such as the history, culture, food, and lifestyle of the locals. In one of Peace Boat's community tour programmes, you can visit the village of Monterrico. Here you can explore the mangrove forest by boat, experience the release of sea turtles, and enjoy the lifestyle and warmth of the villagers. Everyone involved in these activities, such as the boatmen and guides, waiters and chefs at lunch restaurants, folk craftsmen, etc., are locals from Monterrico.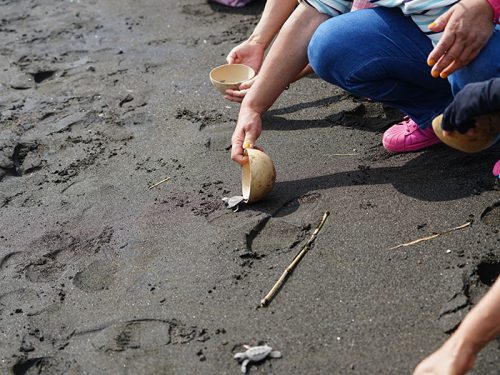 First, take a boat trip through the canals and brackish waters in the mangrove forest. Relaxing on the surface of the mangrove-filled water makes you feel calm. Next, we visit the sea turtle shelter. Sea turtles come from the sea every fall to spawn in the Monterrico area. In order to protect the eggs from humans and animals that target them, the eggs are collected and hatched at this facility, so they can be returned to the sea when the baby turtles are born. On the tour, you will also experience the release of baby sea turtles, seeing them walk slowly and gently on the sand. It will take about 10 years for the released turtles to grow up and return. A visit to Guatemala is a special journey to explore both the past and the future, and to learn about the preciousness of life and its coexistence with the natural environment.