Walking through Italy's history and charms (Southern Italy, Part 1)
2020/9/11
Located in the middle of the Mediterranean Sea, southern Italy has enjoyed a rich mixture of histories and cultures since ancient times. In this sunny area, we can find countless travel highlights such as the city of Naples with its Vesuvius volcano and breathtaking azure waters, the Amalfi Coast, known as the "most beautiful coast in the world", the ancient city of Pompeii buried in volcanic ash, and the Alberobello houses with their lovely pointed roofs. Peace Boat frequently visits ports in southern Italy as a part of its global voyages.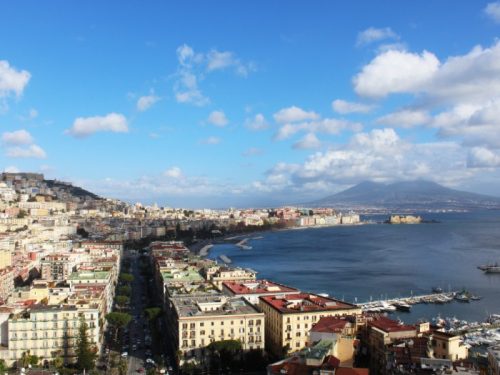 To a City Colored by Many Histories
Naples is Italy's third largest city after Rome and Milan. Its history goes back to the Roman colonial city of the 7th century BC, and the bay has a scenic landscape known as one of the world's three most beautiful ports, so famous that since ancient times it has been said that in order to die peacefully, one must see Naples at least once. The old town of Naples has been registered as a World Heritage Site, and boasts the San Carlo Theater, the oldest theater still in use; the Castel Nuovo, which has watched over the city for 700 years; and the "Galleria Umberto I", a shopping street with many attractions and a beautiful arcade. To blend in with the local lifestyle take a walk in "Spaccanapoli", an area with a strong downtown atmosphere that will completely immerse you in the old Italian atmosphere. Just be aware that you might want to move here!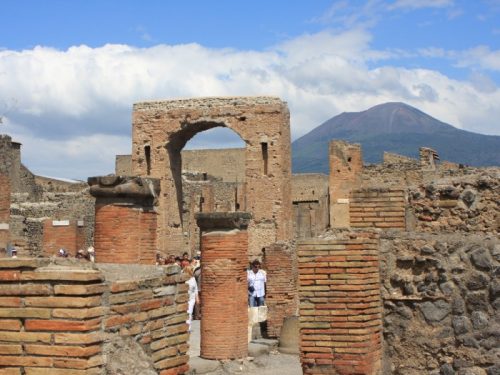 Next, we will head to the ruins of Pompeii, an ancient Roman city that disappeared due to an eruption of the Vesuvius volcano. Here you can see the beautifully preserved cityscape of ancient Rome, as if you had traveled back in time about 2000 years. The city, which was covered with lava and volcanic ash in the blink of an eye, remains as exactly as it was at that time. From the ruins of administrative buildings, temples, and baths, you can see the elements of a highly developed cultural city. Daily necessities and fine arts remain the same as they were at that time. The people excavating were also surprised by the amazing degree of preservation. The Pompeii Ruins is a space where time has stopped, providing us a unique experience of time travel.