A Port Town with a Venetian Atmosphere
Koper
The city of Koper was under Venetian rule for 500 years, and the cityscape is strongly influenced by this. Enjoy walking around this quiet port town surrounded by the scent of the Middle Age.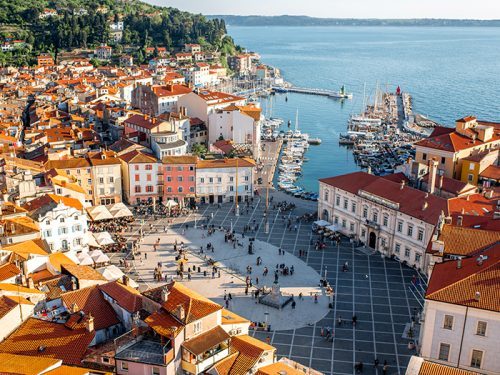 An Aesthetic City in Slovenia
The town of Piran is near Koper, where the ship stops, and is a secluded resort area on the Adriatic Sea. The beautiful townscape of orange-roofed houses fills the small peninsula stretching into the Adriatic Sea. It looks as if the town was taken out of a picture book. Right by St. George's Parish Church — with an impressive spire –, there is Piazza Tartini. It is a spot where you would find many of the town's charms. As you stroll around the square surrounded by beautiful merchant houses, you feel the town's deep history. Have a seat at one of the cafes or restaurants facing the square, and enjoy a cup of coffee in this perfect atmosphere.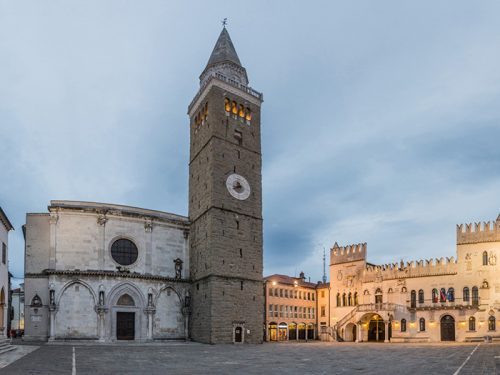 The Old Town Passing Down History
The Old Town of Koper is lined with Venetian-styled buildings. Visitors can walk around the city and enjoy the medieval atmosphere. One of the city's landmarks is the City Tower, a 54-meter-high bell tower. From its observation deck at the top of the 200-step staircase, visitors can enjoy a panoramic view of the orange-roofed old town and the Adriatic Sea. If the weather is fine, you can see as far as Italy on the other side of the sea. The Praetorian Palace on Tito Square is another must-see spot. The Palace was built in the 15th century and remodeled in the 17th century. The building quietly tell us its long history.
PHOTO:PEACEBOAT, shutterstock.com