Nature and Culture at Alaska's Southernmost Point
Ketchikan
Ketchikan, the southernmost city in Alaska, is the gateway to the Inside Passage. It is a port where you can see the magnificent landscapes created over time. You will also encounter indigenous cultures that have developed in harmony with the rich natural environment.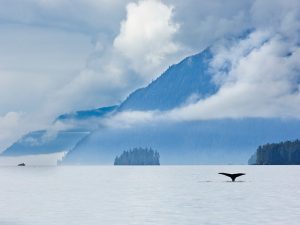 Into the Magnificent Fjord
The Inside Passage is a dynamic landscape of intricate fjords and countless islands, stretching approximately 1,600 kilometers (1,000 miles) along the southeast coast of Alaska. The best part of an Alaska cruise is the moment you sail through this spectacular scenery. You will see the green old-growth forest beyond the tranquil ocean and steep snow-capped mountains behind it. By cruising through the clear air and these magnificent landscapes, you will feel the essence of Alaska, sometimes called the "Last Frontier."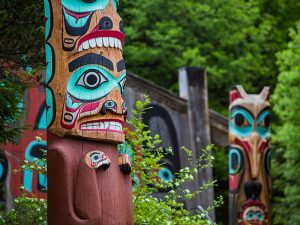 The Culture Flourished in Alaska
Encounters with rich indigenous cultures are another major attraction of the city. Ketchikan is home to a tribe of Alaska Natives with a well-developed totem pole culture. Totem poles are logs carved with the roots and lore of the tribe. In Ketchikan, you can find a variety of unique totem poles. Creek Street is where you will see wooden houses on stilts along the riverbanks. Here, you can also find unique Alaskan souvenirs made by the indigenous people, such as folk art, stonework, and goods with traditional designs featuring animals.
PHOTO:PEACEBOAT, shutterstock, GettyImages